The discounter remains fastest growing grocery retailer in UK as consumers tighten belts, NielsenIQ finds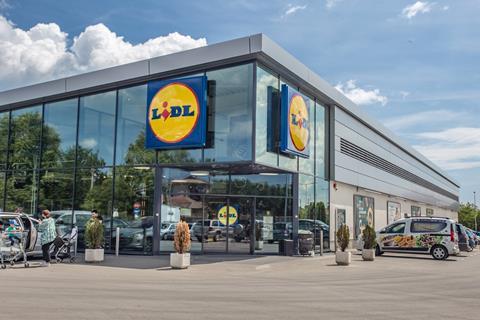 Lidl remains the fastest growing retailer in the last 12 weeks ending 10 September as food inflation accelerates and UK shoppers focus on buying little and more often to help manage rising food bills, reveals new data released today (21 September) by NielsenIQ.
Figures from NielsenIQ show that total till sales growth slowed from +4.5 per cent the previous month to +2.5 per cent in the last four weeks ending 10 September as shoppers returned from holidays, returned to work and reset their spending patterns after the summer.
NielsenIQ found that supermarket sales during the week ending 10 September dipped to £2.48bn – the lowest level this year since the lull in the week after Easter 2022. Meanwhile, sales volumes fell -4.4 per cent over the last 12 weeks.
Promotional spend also continues to flatline, accounting for just 20.9 per cent of all sales (a slight increase from 19.9 per cent last year), Nielsen said.
Online sales continue to fall
According to data from NielsenIQ, visits to bricks-and-mortar stores increased by +4.8 per cent in the last four weeks, while online visits declined by 5.3 per cent. This equates to 1 million fewer online deliveries than this time last year, it said. As a result, online sales fell 7 per cent compared with the same period last year.
NielsenIQ data also shows that the online share of FMCG sales has declined to 11.1 per cent - this is down from 11.3 per cent recorded last month and down from 12.3 per cent a year ago. This decrease may indicate that this is now approaching the normal level for online share.
There were also value sales declines across fresh produce (-2.3%).
Asda becomes one of the fastest growing retailers
In terms of retailer performance, Lidl (+9.4%) remains the fastest growing grocery retailer over the last 12 weeks, closely followed by the Co-operative (+6.9%), Marks & Spencer (5.5%) and Iceland (5.5%), Nielsen said. Asda (5%) was the fastest growing retailer in the 'big four supermarkets', while sales at Morrisons and Waitrose continue to fall.
Mike Watkins, NielsenIQ's UK head of retailer and business insight, said: "Asda sales have rebounded strongly in recent weeks helped by weak year ago sales, but the retailer has also been attracting new shoppers. This suggests that new range initiatives such as Just Essentials and the roll out of Asda Rewards are giving a stronger price perception and now starting to have an impact on sales."
Watkins continued: "With food prices continuing to rise and household energy costs about to jump in October, it's no surprise that our data shows that 57 per cent of consumers are saying they have been severely or moderately affected by the cost of living crisis, and in three months this is anticipated to rise to 76 per cent. With CPI inflation expected to remain close to current levels for the rest of the year, this will encourage households to shop around and to look for savings across different retailers, with shoppers increasingly focusing on the cost of their weekly groceries to help manage personal finances."