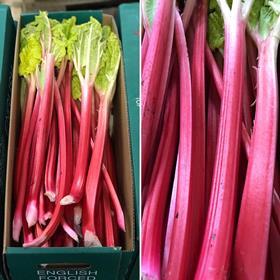 The start of the forced rhubarb season is normally an exciting time for restaurant chefs in the capital but this year Covid-19 lockdown restrictions rained on rhubarb's parade.
In Evesham, some of the first commercial sticks of the season were harvested last weekend, almost a week earlier than last year, with the season also beginning in the Yorkshire Triangle. For example, experienced grower Robert Tomlinson posted on Twitter that he started cutting rhubarb in Pudsey, West Yorkshire on Tuesday 15 December.
Unfortunately for growers and suppliers, new lockdown restrictions have forced traders to hastily divert the eagerly anticipated stalks from restaurants to retailers.
Vernon Mascarenhas of high-end NCGM catering supplier Nature's Choice reported that his growers in Evesham cut their first forced rhubarb last weekend. But before it could be sent out to restaurants in the capital, London was upgraded to Tier 3 on Wednesday 16 December, halting supply.
"We were ready to hit all the top restaurants in London and then Boris shut everything down," says Nature's Choice commercial director Vernon Mascarenhas. "Our customers were really excited to have the first forced rhubarb of the season, and my Twitter feed got all excited, but then Tier 3 happened."
Nature's Choice was set to deliver the produce to Michelin-starred restaurants in London such as Le Gavroche, Murano and Elystan Street, but the supplier instead had to find a home for the prized sticks at high-end retailers such as Newlyns Farm Shop near Fleet, a delicatessen called Culvar + Nelson in Mortlake, West London, and the award-winning Andreas Veg in Chelsea.
Mascarenhas put the early harvest down to warmer growing conditions and the fact that his grower decided to experiment this year by heating up its forcing sheds earlier than normal.