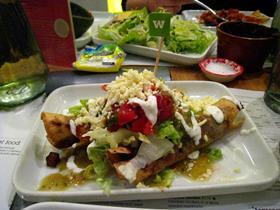 Mexican restaurant chain Wahaca has closed several of its London restaurants after over 350 people have fallen ill with suspected norovirus.
Public Health England (PHE) said it is currently investigating the cause of the outbreak, after 205 members of staff and 160 customers fell ill.
The closed restaurants include Canary Wharf, Covent Garden, Oxford Circus, Soho and White City, in London, the Guardian reported.
Deborah Turbitt, London deputy director at Public Health England, said: "Public Health England has been notified of a suspected norovirus outbreak at a restaurant chain. We are working closely with environmental health officers and the restaurant chain to investigate.We have so far been made aware of 205 staff and 160 members of the public reporting illness, however these are unconfirmed cases. Currently, the source of the outbreak is not confirmed and this remains under investigation.'
Turbitt said norovirus 'can be very unpleasant but is rarely serious'. 'Most people make a full recovery within one or two days, without treatment. It is important that people with diarrhoea and vomiting drink plenty of fluids to avoid dehydration,' she added.
Wahaca was founded by MasterChef winner Thomasina Miers. It serves Mexican-style street food in a casual dining setting.