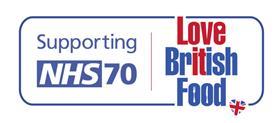 The Love British Food initiative has launched a special logo to commemorate the 70thanniversary of NHS caterers and to encourage more hospitals to back British produce rather than switching to cheaper imports.
This year's British Food Fortnight (22 September-7 October) is shining a light on NHS hospitals that continue to buy and serve British, local and seasonal food. According to the Hospital Caterers Association, more than £200 million is spent annually on British food for patients, accounting for roughly 75 per cent of the NHS food budget.
In a bid to ensure this support for British food continues, all members of the Hospital Caterers Association (HCA) serving domestically-produced food will be offered a specially designed Love British Food/NHS logo at no cost in recognition of their support.
Alexia Robinson, founder of Love British Food and British Food Fortnight, said: "We have an incredible NHS and this year British Food Fortnight wants to pay tribute to all those hard-working hospital caterers who continue to serve the very best British ingredients in healthy meals, day in day out."
Former chair of the HCA, and current PS100 Group chair, Andy Jones, added: "We want to encourage more hospitals to back British and not switch to cheaper imports. While the average budget for food only per patient per day is just £3.45, by using good quality British seasonal ingredients it's possible to provide healthy and hearty meals for patients within this budget."
By way of example Jones referred to Nottingham University Hospital, which he said was saving £500,000 a year by procuring approximately 65 per cent of its food locally.
Hospitals can apply for a free logo by contactingjane@lovebritishfood.co.uk.