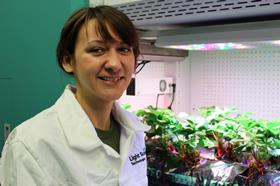 Ag-tech specialist Light Science Technologies has appointed PhD researcher and photosynthesis expert Laura Briers as a plant scientist to help advance its innovations in CEA technology.
Light Science Technologies delivers lighting, science and research-proven plant monitoring technology and software in partnership with university research teams.It works across multiple indoor applications including vertical farming,greenhousesand polytunnels in various crops.
Briers, a PhDresearcher inPlant Physiologyat the Universityof Nottingham, is specialising in wheat photosynthesis, which has been identified as a key target for improving future wheat yields and is an important research area.
Based at its onsite laboratory facilities in Derby, she joins the team to help drive LST's efforts to improve plant performance for sustainable, indoor farming across vertical farming, glasshouses and polytunnels.
A first-class graduate in Biological Sciences from the University of Plymouth, with a distinction for a year in industry, Briers has held previous appointments as a research technician in key food security research areas at the University of Nottingham and also at University of Exeter, where she won an Above and Beyond Award for her contribution as a technician to its lab group.
She has also completed a PRINCE2Foundation and Practitioner certification in project management, fuelled by her interest in industry applied science.
Briers said:"This is a fantastic opportunity for me to work alongside wider projects involving crop testing.
"What drew me to LST was its conscious sustainable ethos – not just through optimising crop growth within an environment that doesn't rely on the planet's fast-diminishing sources, but also through using its own manufactured, recyclable lighting product to achieve this. I am relishing working with a company that will make a significant, positive impact on the future of our food system."