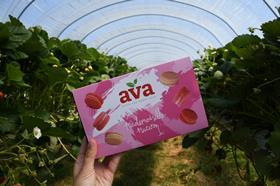 AVA Berries has teamed up with renowned patisserie Mademoiselle Macaron to create a trio of special macarons using the branded fruit.
Timed to celebrate the return of the Wimbledon tennis tournament, the French treats can be ordered for home delivery and come as part of a box of 12. They include an AVA Strawberry Champagne Macaron made with an Italian champagne buttercream and AVA strawberry pâte de fruit filling.
There is also an AVA Strawberry and Cream Macaron featuring a smooth cream ganache, and an AVA Strawberry Pâte de Fruits Macaron, which is described as 'delightfully fresh and fruity.' The special macarons are available for a limited time.
Rachel Hanretty, chief mademoiselle at Mademoiselle Macaron, said: "We are especially excited about this new limited-edition range. Working with AVA Berries has meant we have been able to go straight to the source to lock in that all-important flavour. AVA Berries are extraordinary strawberries with truly exceptional flavour, which makes these macarons taste simply incredible.
"Each sweet creation is a celebration of tennis, summer, strawberries and patisserie innovation."
Jill Witheyman, head of marketing at AVA Berries, added: "There is something really quite special about macarons, which is why we are thrilled to have teamed up with the fantastic Mademoiselle Macaron to create these wonderful new French delights. We know that our AVA strawberries have an exceptional flavour, and Rachel has created something that is guaranteed to get your taste buds tingling."