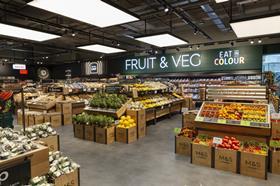 M&S has launched its Sparking Change National Challenge, which encourages its 14 million Sparks customers to try a lower-carbon diet, feel healthier and potentially save money, while benefiting the planet.
During the two-month Challenge, customers will have access to recipes, practical tips and a Sparks Live cook-along event hosted by M&S chef Chris Baber, alongside a surprise celebrity guest.
Available through Sparks, M&S's loyalty reward scheme, participants will be supported with a range of resources designed to help them make delicious and more sustainable meals from scratch.
This month, M&S is providing ideas around the best ways to incorporate more protein from plants into diets with simple swaps and flavour hacks. Sparks customers will receive discounts on M&S' meat-free Plant Kitchen range every Monday during the month, as M&S joins forces with Meat Free Monday to encourage families to go plant-based for one day a week.
February will focus on More Taste, Less Waste, enabling customers to cook delicious healthy meals while reducing food waste. Customers will also benefit from expert tips on batch cooking, storing food to make it last longer and how to best use leftovers, helping them to save upwards of £20 on their weekly shop in the process.
Growing concern for the environment
The most recent M&S Family Matters Report highlighted that the environment is a growing concern for two-thirds of families in the UK, while almost half believe that we should be eating less meat and well over a third say they've already made changes to the food they buy to take account of climate change.
To respond to customers' growing sustainability concerns, M&S partnered with environmental charity Hubbub to create a nine-week behaviour change pilot involving almost 100 customer and colleague families from across the country.
Grounded in behaviour change theory, the Sparking Change pilot focused on four areas – protein from plants, cutting food waste, cooking from scratch and sustainable living beyond the kitchen.
All participants received expert tips, easy-to-follow recipes and the opportunity to join live cook-alongs with chefs for extra inspiration, as well as a session with a nutritionist. A private digital community group was also created for the sharing of recipes and tips.
After three months, participants reported lasting impacts, with:
- 90 per cent eating less meat and wasting less food;
- 76 per cent of participants' children more likely to get involved with cooking;
- 73 per cent cooking from scratch more often and 75 per cent eating more seasonal produce;
- 70 per cent feeling healthier;
- 39 per cent saving money (on average £22 per week);
- 34 per cent more likely to buy plant-based meat alternatives.
Those who took part in the trial also reported spending more time together as a family, not only eating but planning and cooking together. In addition, many enjoyed the experience of being more adventurous with recipes, the benefits of simple, healthier product swaps and the cost savings of eating more plants and wasting less.
Sophia Linn, nutritionist at M&S, said: "Eating more sustainably needn't be complicated or expensive - there are simple steps we can all take to reduce our impact on the planet. Our Sparking Change Challenge is designed to help customers make small changes that can easily be incorporated into their day to day lives and make it stick for the long term.
'We want to help our customers explore and enjoy more sustainable ways of living and our Plant Kitchen range means any swaps customers do make aren't compromising on quality, affordability or taste."