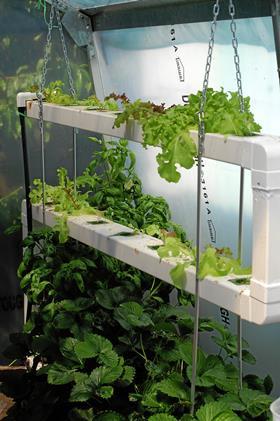 Increased awareness about the risks of contaminated vegetables and a rise in urbanisation have led to a booming market for hydroponic production, a new report has found.
There is increasing consumer demand for vegetables produced in a safe and organic environment, such as in hydroponic systems, the study by Scalar Market Research has found.Businesses are also seeing the benefits of hydroponic vegetables as they don't need soil to grow, meaning they reduce the challenge of vegetable contamination.
The hydroponics vegetables market is also growing thanks to increased interest and acquisitions from major food brands, researchers found.
Production of hydroponic vegetables has risen globally, and the market is likely to increase in the future, the report concluded, in particular as climate change increasingly threatens traditional methods of agriculture.
Hydroponic systems use a mineral nutrient solution in water, rather than soil, with some vegetables more suited to the method than others.
The report identified key players in hydroponic systems including Thanet Earth, Eden Farms and Millennium Pacific Greenhouses.