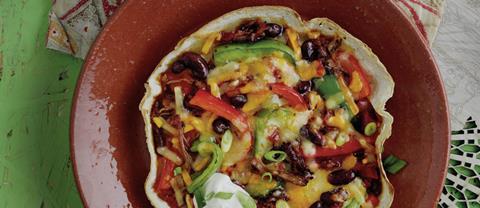 The average Brit now eats food from six different countries every day, according to a new survey by Asda.
Sales of international foods at Asda have soared by 40 per cent in the last 12 weeks, the retailer said, with a third of shoppers reporting that they have more adventurous habits than ever before.
A further 35 per cent claim they prefer these international dishes over traditional British meals, the survey found.
Mexican fajitas are the nation's favourite international dish, having knocked curry off the top spot, followed by paella, peking duck, moussaka and mozzarella salad. Other entrants on the list include sushi, ramen and pad thai.
Searches of Mexican food on Google have rocketed by 225 per cent in the last five years, Asda said, while previously common international cuisine such as chicken tikka masala and margherita pizza is becoming less popular.
Asda head innovation chef, Mark Richmond, said: "Our appetite for international foods continues to grow and we're broadening our palates far beyond classic tikka masala or chicken chow mein.
"Our taste buds are likely to travel even further in 2018 with a rise in popularity of foods from the Middle East, the Pacific and Regional Italy as well as deeper exploration of Asian Fusion."
The research said that the growing passion for international cuisine is inspired by a number of things, including the increasing range of available dishes in supermarkets, which prompts consumers to try new flavors (35 per cent), travel around the world (20 per cent), cookery programmes (16 per cent), aspirations to become more cultured (10 per cent) and the increasing proliferation of social media (six per cent).