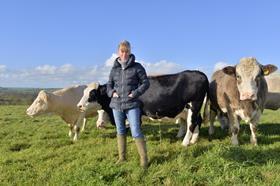 Deputy president of the NFU Minette Batters has been named as a new ambassador for pan-industry campaign Love British Food.
Batters joins a growing list of supporters for the year-round campaign, which culminates in British Food Fortnight at the end of September, including Raymond Blanc and son Olivier, beauty brand and organic farmer Liz Earle, and former chairman of the National Fed of Young Farmers Clubs, Milly Fyfe.
Founder Alexia Robinson said: "We are delighted that Minette Batters has agreed to be an ambassador for us. She is a strong and vociferous campaigner for British agriculture and it's a great honour to be working alongside her.
"Minette is hugely knowledgeable and an inspiration to so many in agriculture and in the wider food and drink industry."
A Wiltshire farmer, Batters has co-founded campaigns including Ladies in Beef and Great British Beef Week, as well as her work for the NFU.
Backed by official retail partner The Co-op, Love British Food is the biggest annual national celebration of food and drink produced in the UK.
"Now in its 15th year British Food Fortnight is a hugely popular and proven catalyst for inspiring people up and down the country, whether big towns like Bath or small schools, community groups and care homes, small and major players in foodservice and most importantly tackling British food in the public sector through our work with hospitals and school caterers," said Robinson.
"These are uncertain times for farmers and we are going to bring all our experience through Love British Food to make sure there is a robust domestic consumer market for their produce."