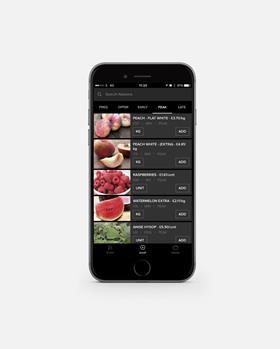 High-end fresh produce supplier Natoora has launched an app to keep chefs in tune with the seasonality and provenance of the ingredients they order.
The app provides chefs with in-depth, real-time seasonal news for fast and informed ordering. It has been designed to replace the old-fashioned methods still used by most chefs to order fruit and vegetables.
Most chefs still rely on phone calls, voicemails and emails to place their fresh produce orders, also using weekly market reports to find out about the quality and seasonality of different produce.
Such reports go "out of date the moment they are printed", Natoora wrote in a press release, adding: "This creates a serious lag in keeping pace with nature. Fruit and vegetables are always on the move, changing from one day to the next."
Commenting on the launch, Natoora CEO Franco Fubini added: "Our new app delivers an unprecedented level and frequency of information. For the first time ever, chefs will have access to a depth of product information, which allows them to react daily to changes in product quality, provenance or adverse weather effects.
"It marks a radical shift from hazy supply chains to one with complete transparency."
Information on weather conditions, as well as the flavour, sizing, origin and availability of fruit and vegetables will be shared with chefs via a news feed, keeping them informed and helping them to maintain a seasonal menu. Chefs can then add items mentioned in the feed directly to their shopping basket.
"Using the app lets us work with nature," said Daniele Codini, the head chef of Covent Garden-based restaurant Frenchie.
"It allows us to respond quickly to sudden shifts in fruit and vegetables and take advantage of things like heightened sweetness or very short seasons – something you would miss if you blinked."
A 'features' page offers more in-depth reading on Natoora's produce, giving chefs recipe inspiration and allowing chefs to create more thoughtful menus based on the story behind a product. On this page chefs can discover how things like soil, seed selection and grower heritage affect the fruit or vegetable that is harvested.
The app also allows restaurants to find out what stage of the season each product is at, with products categorised as 'early', 'peak' or 'late' in the online shop.
In addition, growing methods ('organic', 'minimum intervention, or 'intensive') are listed for each product, and chefs can re-order products in just three clicks using the 'past' order page.