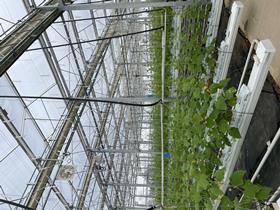 Baby cucumbers grown inside a unique protected environment have ranked the highest for flavour and eating enjoyment during an independent benchmark testing exercise.

The fruits were produced at the Natural Light Growing Centre, a facility run by partners CHAP (Crop Health & Protection) and RIPE at the University of Warwick Life Sciences, Wellesbourne.

The Centre utilises ETFE (ethylene tetrafluoroethylene) material, which unlike glass, transmits the full spectrum of UV light into the growing area. This helps to boost crop health and yield, as well as improve the marketable qualities such as taste and colour.

Independent testing and analysis conducted by Campden BRI now helps to further confirm the benefits of ETFE as a replacement for glass.

Founder and managing director of RIPE, Phillip Lee, said: "The benchmarking compared baby cucumbers grown within the Natural Light Growing Centre with those grown in conventional systems and sold through a range of leading UK supermarket retailers.

"Fruits were ranked according to appearance, flavour and texture with an overall eating enjoyment score given out of 10. We're delighted that our two variants of baby cucumbers ranked the highest, as this provides the evidence needed to support our work and the ethos behind the Centre."

Both a baby and mini variant of cucumber were evaluated from the Centre during testing, with the baby scoring nine out of 10, the top score. Comments included that the fruits were very neat and uniform, vibrant green with bright flesh containing a good amount of seeds. Taste comments were that they were refreshing and pleasingly sweet to eat, with a satisfying and defined crunch to the skins.

Aside from improving the marketability of cucumbers, additional infrastructural benefits of ETFE could help growers to address wider issues such as maintenance costs, workforce safety and environmental impact.

CHAP Innovation Sector Lead, Martin Squire, said: "As a construction material, ETFE is recyclable and very long lasting, withstanding extreme weather conditions such as hail. Whereas glass might break and contaminate a crop or injure the workforce, ETFE mitigates that risk and is easily repairable should a puncture occur.

"In terms of building a structure, ETFE is used in conjunction with a light-weight frame and unique ground anchoring system. Not only does this mean it's quick to erect with less metal, but it reduces the need for traditional concrete foundations too.

"An important consideration in all of this is that the demand for glass is rising rapidly due to requirements of the solar technology industry, thus driving up the cost. Where previously ETFE has been criticised from an outlay point of view, it's now price comparable to glass and therefore has become a more viable option. Replacement panes aren't needed so maintenance costs are minimal."

Once in situ, as ETFE is a form of Teflon, it is non-stick and dirt resistant, reducing the need for cleaning. When no longer needed, it is fully reusable or recyclable and can be melted down and repurposed into new fluoropolymer products including film.