Market renowned for catering supply is on the hunt for new independent retail customers following sector's growth during the pandemic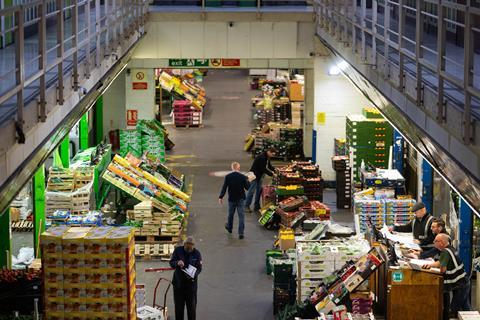 Wholesalers at New Covent Garden Market are running a campaign to underline their support for their independent retailer base and highlight the benefits of buying produce from the market.
To help raise awareness of the market, NCGM is running a competition for new customers, with a prize for two retail businesses of £500 of free fruit and vegetables of their choice, delivered to their store. Full details can be found here.
NCGM is located in Nine Elms, on the south bank of the River Thames and has served London and the southeast of England with fruit, vegetables, flowers and fine food for several centuries.
In more recent times, as the British public has grown accustomed to eating out more often, the market has become renowned as a leading source of premium fresh food for the burgeoning catering and hospitality industries.
However, alongside this, independent retailers on high streets and in retail markets remain an important part of traders' customer base – one that performed well and proved vital to many consumers during the Covid-19 pandemic.
Gary Marshall, chairman of the Covent Garden Tenants Association, which represents most of the 175 wholesalers across the market, said: "NCGM already supplies a large proportion of the independent retailers in London, the Home Counties and across the southeast of the country.
"If we're not already supplying you, then it's time to give us a try and enjoy our bespoke services – we can transform your fruit, vegetable and flower offer and move your fresh category onto another level."
Addressing independent retailers, he added: "Without the tireless efforts of the independent retail sector, the supply chain would have been extremely fragile when the first lockdown was imposed on the nation.
"The intrinsic value of independent greengrocers to their communities has been re-instilled into the hearts and minds of the British public and we'd like to help you ensure that the opportunity to remain in their thoughts is not lost."
Marshall said the market's traders would welcome customers of all sizes and was there to support and "help your business grow".
Jo Breare, general manager of Covent Garden Market Authority, which manages NCGM, added: "It would be easy to believe that everyone's heard of us, but we know there will be people reading this who haven't been to NCGM and therefore don't have the full picture of what an incredible trading environment this is."
She cited the market's "world class fresh produce", "world class people", experience, expertise and central London location.
Over the last few years, NCGM has been undergoing a transformation that it said will turn it into the UK's most modern wholesale facility by 2027.