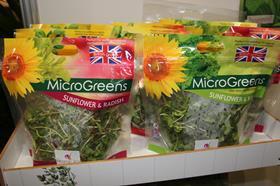 Herb producer Neame Lea Fresh has launched a range of micro greens in an resealable carry-case packaging designed to pitch micro produce into the mainstream.
The company unveiled its new product, which comes in four 180g mixes, at the London Produce Show last week. With the tagline "perfect for adding to salads, sandwiches and smoothies, the available mixes are sunflower and kale, sunflower and basil, sunflower and beet and sunflower and radish.
Commercial manager Richard Priestley said the idea had come after a recent trip to the US, where he had seen the prominence given to micro greens in retailers. "They have their own shelves and are perceived as another bagged salad. There's no reason why we can't do that here," he said.
"Currently micro greens are seen as very foody in the UK, rather than mainstream retail, and that is to do with the packaging. We think there's huge potential for it."
Spalding-based Neame Lea Fresh, which also operates in the ornamental plants sector, re-entered the potted herb last year, after initially entering in 2008 and then selling that part of the business. It also supplies cut herbs, living salads and edible flowers.
The company launched its micro greens business in spring of this year, and said it is "continually asked for added value", which led to the decision to develop the new packaging.
"It is still in the development stage, and there has been a lot of interest at the show," said Priestley. "Ideally we would like the Neame Lea Fresh brand to be listed at retail – we have the grower story and profile on the back, which retailers need nowadays – but we have also created a non-branded pack."