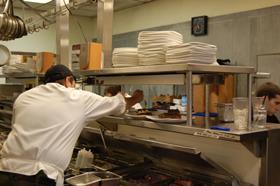 A new campaign to tackle a nearly £3billion food waste "epidemic" in the hospitality industry will be launched today.
The Guardians of Grub campaign will target the hospitality and food service sector, to cut out 100,000 tonnes of wastage, where it is estimated around 75 per cent of discarded food could have been eaten.
The campaign will be unveiled at the government-led Step up to the Plate symposium, and is aimed at everyone from Michelin star restaurants to local pubs and wherever food is served to order.
Research by anti-waste campaigners Wrap, shows that on average 21 per cent of food waste arises from spoilage, 45 per cent occurring in food preparation and 34 per cent from consumer's plates.
The campaign will provide ways of making simple, low-cost changes to the way food is bought, prepared and served in the industry.
The Step up the Plate conference will be attended by Defra secretary Michael Gove alongside senior business figures and some of the UK's best-known restaurateurs and chefs.
Food surplus and waste champion Ben Elliot said: "This campaign brilliantly shines a light on the food waste epidemic. Initiatives like this provide a strong foundation for change. Less conversation, more action. We are all in this together. It's time to stand tall and work towards a waste-less future."
The campaign will provide instructional materials to help nudge behavioural change in any business by informing on best practise strategies, including how-to guides and a free calculator to record the changes being made.
A month of action in September is also planned when the hospitality and food service sector will come together to "Stand up for Food". Many of the UK's largest hospitality and food service representatives have already pledged their support to the initiative, including the Federation of Wholesale Distributors and the Sustainable Restaurant Association.
Kate Nicholls, CEO of UKHospitality said: "Food waste is a serious issue and one that consumers and businesses increasingly feel passionate about. UKHosputality, our members and the wider hospitality industry also take the issue seriously and we want to make sure we capitalise on our efforts to significantly cut down the amount of food we throw away.
"Guardians of Grub is a fantastic campaign and we are urging everyone in hospitality to get behind the campaign and help reduce the one million tonnes of food the sector currently wastes per year."