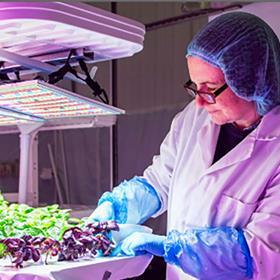 A new UK hydroponics facility for growing green leaf salad all year round will aim to give British shoppers longer shelf life.
Lincolnshire-based design firm Arctica is assisting growers H20-ganics to build an innovative location with controlled clean room environment, free from pests or pathogens, scheduled for completion at the end of the year.
Arctica director Niall McQuitty said the facility will provide longer lasting lettuce to UK retailers. Once established, the system will be used to grow a full range of green salads and herbs for sale in supermarkets.
McQuitty said: "Green leaf salad is normally grown outside. The clock starts ticking on the product's shelf life as soon as it is harvested. Green leaf coming from other markets – such as Spain – takes 24 hours to transport to processing facilities in the UK. It can take up to three days from picking to packing which means, by the time it's in the shops, it has lost up to half its shelf life.
"Cleaning the leaf also has an impact on the quality of the produce. Washing, drying, mixing, bagging and transport all require care because the leaf is fragile and prone to damage – which also reduces shelf life. H20-ganics creates a high care environment in which to grow the leaf that removes most of these stages from the process. It can be harvested, cleaned and packed without losing quality, thereby increasing its shelf life."
H20-ganics' Nick Bateman added: "H2O-ganics produce is not grown in soil but produced in a fully controlled clean environment, which keeps out pests and pathogens, while maintaining the optimum conditions for plant growth.
"Using our controlled environment approach to agriculture and clean room technology, we are able to produce a consistent specification of product 365 days of the year, without the use of pesticides."