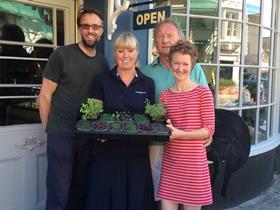 Micro herbs are now available for the first time in Dorset.
Produced by chefs, for chefs, HydroPhoria is now supplying live micro herbs to restaurants across the UK, which are also available to consumers exclusively from The Tickled Pig's brand new deli in the centre of the town, where diners at the café and kitchen can even use the herbs placed on their tables to garnish at will.

HydroPhoria is joint venture from Jez and Niki Barfoot of The Tickled Pig and Clare and Baz Williamson of hydroponic fodder firm Premium Fodder.
A spokesperson said: 'HydroPhoria employs the latest hydroponic methods to grow clean, pesticide-free micro herbs, using recycled water and a space-efficient vertical farming system. Ancient and modern agricultural values sit side by side, producing micro greens that are kind to the environment, good for the body and tantalising for the taste buds.

'With a diverse selection of micro herbs freshly grown on a daily basis, HydroPhoria is set to burst onto the restaurant scene, supplying flavour bombshells like the beautiful Radish Rioja, with its deep red or green leaves and spicy radish flavour.
'Other herbs include the pink veined Mustard Red Zest, offering a peppery wasabi flavouring as a garnish, in sushi or as a new take on mashed potato, and the Vitamin K-rich Lemon Basil, possessing a citrus tang that works equally well in a panna cotta or a creamy pasta sauce and can even add a new fresh note to homemade lemonade.'

HydroPhoria's full range of micro herbs is now available to the UK catering industry and members of the public looking to get creative with their greens can also purchase them exclusively from The Tickled Pig's deli in the Dorset town of Wimborne.