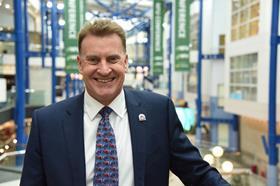 Red Tractor is launching a colour-coded marque so shoppers can quickly identify organic food.
The new green organic marque retains the union flag and the distinctive tractor with the heart in the wheel sitting on a 'tick', but replaces the words Certified Standards from the core logo to instead clearly identify it as organic.
The organic marque is one of three new colour-coded identifiers being launched by the farm assurance scheme, alongside two pertaining to chicken.
Red Tractor said that based on farming systems widely recognised by consumers, the new ranges will offer a one-stop solution for people looking for specific production methods for food that is also grown or reared to safe, traceable, high animal-welfare and environmental standards.
The new ranges will begin to roll out across foodservice and retail over the next 12 months, starting with the enhanced welfare for chicken module.As with the core offering, accredited members will be required to meet robust specifications for the new ranges, which will be checked by independent assessors from farm to pack.
Red Tractor said it made the move in response to the proliferation of on-pack logos, which causes confusion for consumers. It added that it developed the labelling system following extensive UK and international research.
Red Tractor chief executive Jim Moseley said: '"Grounded in the values of the Red Tractor scheme - animal welfare, food safety, traceability and environmental protection – this is an important broadening of the scheme which for 20 years has, and continues to, transform and build trust in British farming and food quality.
"Over the past 18 months we have been focused on how we can provide greater choice and clarity for those shoppers and diners who are looking to buy British produce grown and reared to recognised production methods, with the added confidence that it's been checked every step of the way from farm to pack.
"Red Tractor is uniquely positioned to be a valuable navigation tool, which safeguards the supply chain of retailers and foodservice brands and reduces the audit burden for farmers and processors. The new modular approach is supported by a clear and simple process, which could strip out some of the complexity from labels on pack and menus."