FruPay financial solution from FruPro speeds up payments and helps makes trade more efficient and secure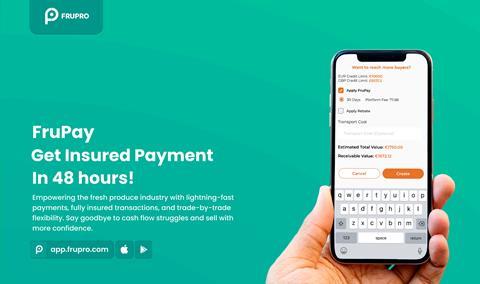 The developers of fresh produce trading platform FruPro have launched a new service called FruPay to help buyers and suppliers manage payments efficiently and securely.
The financial solution addresses the pain points experienced by businesses buying and selling fresh produce, providing what it calls a "streamlined and secure" platform for financial transactions.
Using "cutting-edge" financial technologies, FruPay offers a host of benefits that empower businesses to overcome the hurdles that have traditionally plagued the industry.
FruPro says FruPay aims to empower suppliers struggling to manage their cash flow, and the platform is designed to allow businesses to receive payments within 48 hours, ensuring prompt and predictable revenue streams.
"By eradicating the fear of late payments and default risks, FruPay provides suppliers with newfound financial stability, allowing them to invest in growth opportunities, expand their product range, and strengthen their trade relationships with buyers," the company said.
On the buying side, companies are given secure and efficient payment options, fostering trust and confidence in their trading partners.
"With the ability to pay on demand, buyers can access a wider range of produce from diverse suppliers, enhancing their product offerings and meeting consumer demands promptly," FruPro CEO Ollie Morley-Fletcher explained.
"FruPay represents a paradigm shift in the fresh produce industry, addressing the longstanding pain points that have hindered business growth and stability for years.
"We are thrilled to introduce FruPay and pave the way for a more connected, efficient, and resilient fresh produce marketplace."
According to the company, a closed trial of FruPay demonstrated the technology's "transformative impact".
FruPro summarised FruPay's key benefits as follows:
Fast payments: in response to the industry's demand for agility, FruPay ensures that suppliers receive payment for their invoices in under two working days. This rapid turnaround not only facilitates faster decision-making but also provides the necessary financial impetus to capitalize on emerging opportunities promptly.
Secure and insured trade: recognising the significance of risk mitigation, FruPay introduces an insured trade feature that safeguards traders against bad debt. This layer of financial security grants businesses peace of mind and fosters a resilient trading environment.
Flexibility: suppliers can tailor their financial journey by selecting the invoices they wish to process. This tailor-made approach empowers businesses to adapt their strategies in alignment with their individual requirements.
Low fees: FruPay charges an industry-low rate of just 2.5 per cent.
Accelerated trade: FruPay expedites trade transactions, minimising friction in buying and selling activities. This acceleration not only optimises operational efficiency but also streamlines the broader trading ecosystem.
Zero default risk: in the event of buyer default, FruPay takes the onus of risk off the supplier's shoulders.
Currency coverage: FruPay's multi-currency functionality allows traders to confidently navigate multiple markets, with options to transact in euros or GBP.
Simplified transactions: with FruPay suppliers can effortlessly raise invoices, eliminating the need for convoluted paperwork.
FruPay is now available to suppliers and European buyers trading in pounds sterling and euros. To start using FruPay, get in touch with the FruPro team.