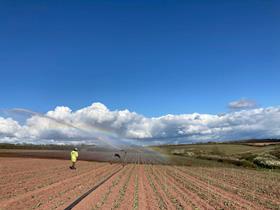 Puffin Produce is taking part in a research project to develop specialist nutrition programmes and emerging solutions and secure a sustainable increase in vegetable yields, quality, and cropping area within Wales.
The project, known as Postcova, is a nine-month industrial research project funded by Innovate UK and run by Emerald Research, who are specialists in soil and crop science, along with several partners including Puffin Produce and Bangor University.
The Postcova project at Puffin Produce will focus predominantly on tailoring nutrient and biostimulants to specific crops, based on data collected from a specific field.
At Puffin Produce, the project will use the latest precision technology such as drones and infield data gathering systems to monitor a range of crops such as leeks, cauliflower, cabbages and potatoes. The information provided is used to tailor nutrient and biostimulant applications on a field-by-field basis.
Stephen Mathias, head agronomist at Puffin Produce, explained: "Currently within the UK and worldwide agriculture, nutrients are generally applied based on soil samples taken from the field before planting, with recommendations from standard guidelines. However, every field and crop are different and unique; each crop has a specific need which varies depending on the weather conditions, what the previous crop was and how it is managed during the season. Therefore, blanket treating the field before the crop is even planted or based on a 'standard field,' is not always the best approach.
"The Postcova approach by tailoring the nutrient to the specific crop based on the data collected in field can help to reduce inputs which are not required. This will increase crop productivity and yield, as well as increase nutrient availability to the plant at the correct time. We will also use new precision tools to improve application timings, methods, and amounts. Moreover, it will reduce the risk of run off and leaching and reduce greenhouse gas emissions from excess fertiliser applications, as well as improve soil quality."
Puffin managing director Huw Thomas added: "By hosting these trials Puffin Produce will be at the forefront of tailoring nutrients to crop-specific needs. This will allow us to pass on vital information to our growers and apply the principles learnt to our own grown produce.
'We are positive the Postcova approach will be a win-win situation for the environment and our growers, as it will result in a reduction of unnecessary inputs, potentially lower our carbon footprint, as well as reducing our impact on the surrounding environment, all whilst simultaneously improving our soil structure, reducing unnecessary cost and increasing crop productivity and yield."