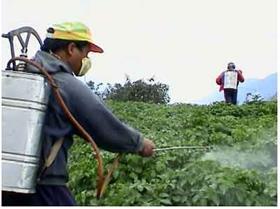 A new detector is being developed to spot minute traces of poisonous elements in fruit and vegetable in a bid to protect farm workers and consumers from harm.
According to one study published last year in the journalBMC Public Health,385 million farmers and farm workers worldwide are estimated to be unintentionally poisoned by pesticides each year, with an estimated 11,000 fatalities.

The greatest number of cases is thought to be insouthern Asia, followed by south-eastern Asia and east Africa, with regards to non-fatal UAAP (unintentional, acute pesticide poisoning).
It is thought that some pesticide residues can also cause serious long-term health conditions, including birth defects, cancers, genetic defects, blood disorders, and neurotoxicity.
The new ultrasensitive detector uses photonics, harnessing light particles to spot the tiniest traces of pesticide or bacteria in minutes – 50 to 100 times quicker than existing technologies, according to the technology's developers.
Currently being developed by an EU-funded consortium, the new system will allow workers to check for pesticides or bacteria by monitoring dozens more samples of fruits and vegetables than are currently performed.
From preparing a sample to detection, the new system can deliver a result in less than 30 minutes, developers say – a fraction of the time at present.
The team use an incredibly sensitive system that uses laser light to detect chemical or biological analytes. Called a plasmo-photonic bimodal multiplexing sensor, the system can spot bacteria or pesticides label-free, without having to use chemicals or dyes as a marker.
Given that food can degrade quickly and with lengthy safety checks at present, factories can often make fewer checks meaning consumers face a greater risk of exposure to poisons and bacteria.
Typically, safety checks on fruit and vegetables are made in random batches then sent to a laboratory, a process that can take 2-3 days to get a result. Due to time and costs, these checks cannot be performed in critical parts of the value chain like supermarkets and restaurants.
Project coordinator Alessandro Giusti said: "With thousands of deaths worldwide, we are in urgent need of a rapid new monitoring device that is accurate, highly sensitive, and cheap to produce.'
The project, called Graced, is currently being coordinated by CyRIC (Cyprus research and innovation centre) and includes a consortium of experts from across Europe.
The developers took their inspiration from one of their existing sensors that examines water to detect microbiological or chemical contamination with a small number of pesticides.
"We developed the project as a 'hard fork' extension of a previous EU project we ran called Waterspy," said Giusti. "In a sense, the two projects are related: bio photonics-based technology to determine contamination in specific matrixes – in Waterspy it was drinking water; in Graced it can be anything – water used for feeding the plants, or the actual fruits and vegetables themselves. The core technologies, however, are entirely different.
"Everything is done on a single chip – we are working to detect seven different analytes simultaneously in less than 30 minutes (including sample preparation time)."
The Graced team also sees the applications being useful in so-called 'next-generation' food production systems. 'Vertical or urban farms are like a bit like a laboratory where everything is conducted in controlled rooms," said Giusti. "Controlling the water quality is very important to the success of these types of farms, and if this process is automated, it is even better.
"Some urban farms are using 'grey water' – sink water used for irrigation – where the risk of contamination is possible. So, a solution like ours will be highly complementary to futuristic food production."
Concluding in 2024, the Graced project will conduct future trials in France, Italy, and Hungary, covering different types of production systems (conventional open-air farming, novel urban farming, short agroecological value chain and semi-automatic farming).
The three-and-a-a-half-year project received a grant of € 4,989,480 from Horizon 2020 under the Research and Innovation action funding scheme.