Farmers' union welcomes House of Lords' recommendations to government to help grow UK hort sector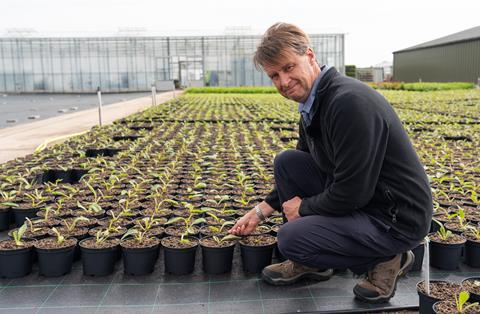 The NFU has welcomed many of the House of Lords' recommendations to the government to help grow the UK horticulture sector made in its 'Sowing the seeds: A blooming English horticultural sector' report published today (6 November).
The report by the House of Lords' Horticultural Sector Committee states that the UK horticulture sector continues to face significant challenges, from soaring production costs to a lack of certainty over future workforce availability.
Its recommendations include improving fairness in the supply chain, enabling greater access to government funding schemes, and providing longer-term certainty for those recruiting through the Seasonal Workers Scheme.
Responding to committee's report, NFU horticulture and potatoes board chair Martin Emmett said: "As this report shows, we have a real opportunity to boost the whole horticulture sector and produce more fruit, veg, plants and flowers, and deliver greater health and environmental outcomes for the nation.
"While soaring costs and supply chain challenges are significantly impacting confidence within the sector, British growers have an ambition for growth. But we cannot do it without government support. The government's own food strategy, published in 2022, implies it shares this ambition, but we must see this backed up with tangible actions."
Emmett stressed the importance of a quick and thorough response from the government to this report, as well as multiple previous reports that are still awaiting responses.
He said: "In its food strategy, the government promised to deliver a long-term strategy for the sector and highlighted the many benefits of increasing UK fruit and veg production, both for the health of the nation and for its food security. Yet we continue to see a contraction in the sector due to soaring costs rather than government action which will give growers the confidence to invest and boost production.
"British shoppers want more home-grown produce and plants, and we could grow more if we had the right political and supply chain policies in place. The government needs to show that it champions this vision and set out its plan for overcoming the many barriers that are holding UK horticulture back."