Union president Minette Batters looks forward to helping new Defra secretary Steve Barclay secure positive farming future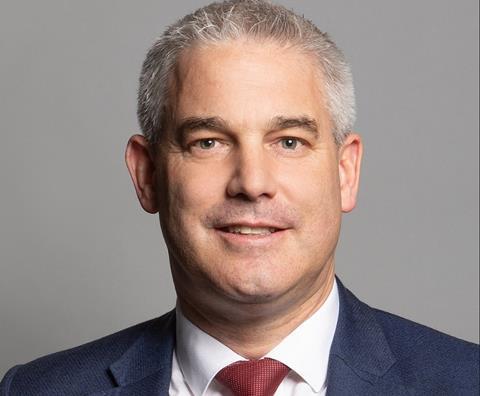 NFU President Minette Batters says she is looking forward to working with newly appointed Defra secretary Steve Barclay to secure a positive future for the food and farming sector.
Her comment came after the announcement yesterday (13 November) that Thérèse Coffey had quit the role amid a broader Cabinet reshuffle, and that Prime Minister Rishi Sunak had appointed Steve Barclay to fill the position.
In a statement, Batters said: "I'd like to thank Thérèse Coffey for her work as Defra Secretary of State over the past year. It is a challenging time for many farmers and growers, and I look forward to working with Steve Barclay to help secure a positive future for British food and farming."
Barclay, the MP for North East Cambridgeshire, has served in Cabinet since 2018, and prior to the reshuffle held the role of Secretary of State for Health and Social Care. His previous government positions include Brexit Secretary and Chief Secretary to the Treasury.
Brought up in Lancashire, Barclay is a solicitor by trade whose early career was in finance.
Coffey, appointed as Defra secretary in October 2022, resigned yesterday telling Sunak: "Now is the right time to step back from government."
Reflecting on her tenure as Defra chief, Coffey highlighted her efforts in listening to farmers and her commitment to turning "ambition into action", particularly in ensuring a sustainable farming and food sector for the UK's long-term food security.
Prime Minister Rishi Sunak expressed his gratitude to Coffey for her years of dedicated ministerial service.
Coffey's year as Defra chief included a very public clash with farmers at the NFU Conference in February over her refusal to accept that the UK faced a food supply crisis.
Speaking yesterday to the Fresh Produce Consortium about Coffey's tenure, Lee Stiles, secretary of the Lea Valley Regional Growers, criticised her lack of interest in growers' concerns like energy prices, and the decline in UK vegetable production.
The Country Land and Business Association (CLA), meanwhile, welcomed Barclay to his new role at this "crucial time" for farming and the rural economy.
CLA president Victoria Vyvyan said: "It is vital Mr Barclay hits the ground running. Environmental Land Management schemes are being rolled out, BPS is being cut, rural communities are being hit hard by the cost of living crisis, and persistently low economic productivity is hampering our businesses and workers.
"Farmers, landowners and rural businesses are dynamic and forward-thinking, helping to feed the nation, create jobs, build homes, fight climate change and look after the environment. With the right support and ambition the full potential of the countryside can be unlocked.
"With a general election expected next year, politicians of all colours must grasp that rural voters cannot be taken for granted and votes are up for grabs for those with a robust and ambitious plan for the countryside."