NIAB doubles year-round strawberry yields when growing everbearer Malling Champion in controlled conditions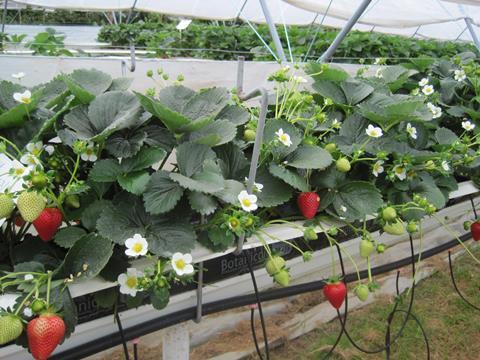 Kent-based research organisation NIAB says it has doubled commercial strawberry yields when trialling its everbearer variety Malling Champion year-round in controlled growing conditions.
The organisation said this latest research indicates huge potential for using high quality plant material of leading everbearer varieties in new vertical farming practices.
During the trials carried out at NIAB's East Malling site, the highest yielding plants produced 3.2 kg of fruit in May 2022, more than double the yield expected from typical everbearer plants in commercial production, it said.
Commenting on the findings, Dr Mark Else, NIAB's head of crop production science at East Malling, said: "This work has demonstrated that we can maintain growth and fruit production through the autumn, winter and spring to increase total Class 1 yields. It demonstrates the huge yield potential that could be achieved by commercial growers if the optimum conditions are provided to the plants beyond the traditional growth period."
The overall Class 1 yield per plant over the 50 plants in the study was recorded at 2.4 kg, with the lowest yielding plant attaining 1.6 kg of fruit. This variation in yield under optimum growing conditions highlights the need for future research to ensure that the quality of initial planting material is consistently high to achieve the 3+ kg Class 1 yield from all plants, NIAB added.
Adam Whitehouse, senior breeder at NIAB who leads the East Malling Strawberry Breeding Club, said: "The ability to produce high-yielding everbearer lines has been a major aim of the EMSBC programme. It is especially pleasing to see the yield potential of Malling Champion, released in 2019, being realised in a controlled environment production system. The work carried out by NIAB will help us to understand how the environment can influence the genetics we are producing at East Malling and to identify the type of traits that will be optimal for developing varieties for growing systems of the future."
NIAB is now in discussion with companies interested in vertical farming systems who would like to replicate the approaches and genetics developed at East Malling to harness new ways of achieving high yields and consistent berry production in commercial practice.