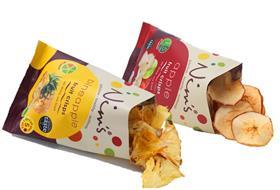 Nim's has landed a deal with the NHS for its air-dried fruit crisps, a breakthrough the company says will help it make inroads into the foodservice sector.
Nim's Fruit Crisps, which recently became a fundraising partner with Save the Children, has successfully completed the stringent evaluation required by the NHS supply chain and will feature in its cold beverages, confectionery and snacks framework.
This means catering managers in every hospital in the country will be able to order its apple and pineapple crisp varieties for sale in visitor and staff canteens.
The Sittingbourne-based firm has already attended two Hospital Caterers Association meetings to present the benefits of its healthy snacks, predicting hospitals could become its biggest sales source within the next twelve months.
"This is a major breakthrough for our business and highlights how the NHS is looking to incorporate healthier products into its offer," explained Nim's founder Nimisha Raja
"As the only crisp range that has been certified by Public Health England as one of your five a day, we knew we had a good opportunity, but still needed to satisfy requirements around sustainability, sales, service, quality and certification to BRC. I'm delighted to say we scored 100 per cent."
She added: "The initial opportunity will be to supply the visitor and staff canteens, but there is also the chance that our products can be offered to patients at the discretion of the catering manager. That potentially could transform our business forever."
2019 has also seen Nim's enter into a partnership with Garden County Vending to trial its products at a number of its sites across the UK.
Managing director of Garden County Vending, Paul Woodard, said: "We are really pleased that our vending machines will be the first in the country to stock the best healthy-option crisps on the market."