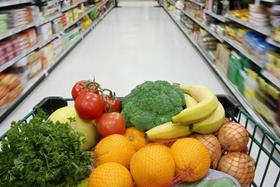 Failure to secure a good EU trade deal could lead to an increase in the cost of basic food items, meaning more families are 'thrown into food poverty', a new report has warned.
The study by Best for Britain, which is campaigning for "the closest possible future relationship with Europe", looks at the impact that leaving the EU's single market and customs union at the end of 2020 could have on food prices in the UK.
Using an indicative basket of basic goods, including tinned vegetables and tinned fruit, the group's analysis reveals the UK Global Tariff – whichwill replace the EU's Common External Tariff in the absence of a trade deal –could add £250 to a household's yearly food costs next year.
Best for Britain's chief executive Naomi Smith said: 'As the UK faces the worst recession in living memory, increases in the price of food could have a devastating impact on low-income families, food banks and those already struggling to overcome the challenges of Covid.
'We echo the concerns of food suppliers, food retailers and charities working to end food poverty in the UK that the imposition of tariffs on EU food imports will lead to a rise in the cost of everyday food items, and a possible deterioration of quality if the government moves to import cheap substitutes from places such as the United States.
'The best way to guarantee staple food items can remain affordable for families is for the UK Government and the EU to strike a comprehensive free trade agreement before 31 December 2020 that grants reciprocal barrier-free access for food.'
In the absence of a trade deal, tinned vegetables imported from the EU (and other parts of the world) face a UK Global Tariff of four per cent, tinned fruit will be hit with an 18 per cent tariff and importers of tinned tomatoes will have to pay 14 per cent.
According to Best for Britain's calculations, this will see a 326g tin of sweetcorn go up in price by 3.4p, a 400g can of peaches rise in price by seven per cent and a 400g tin of tomatoes increase by 4p.
When it comes to some keyfreshproduce imports, the UK Global Tariffs are as follows:
Apples:four per cent (1 January-31 March), zero per cent (1 April-31 July), eight per cent (1 August-31 December)
Tomatoes:eight per cent (1 Novemebr-14 May), 14 per cent (15 May-31 October)
Table grapes:eight per cent
Bananas:£95 per tonne
Mandarins (includingtangerines but excluding clementines and satsumas):16 per cent
Tariffs for other products can be foundhere.
Best for Britain said that its calculations represent a conservative estimate, based on the UK Global Tariff and other import and consumer data.
Other administrative costs and supply issues could increase prices even further. For example, the extra administrative burden now published by the Government for customs clearance of up to £46 per container will add significant costs to business, which may be passed on to UK consumers.
Other factors contributing to an increase in food prices include the value of the pound sterling which, since the referendum has fallen, leading to some small price rises.
Calling for the UK government to strike an "affordable food deal", the report warns that increased costs at a time of economic fragility could see families fall into food poverty.
Food poverty, which the UN defines as a lack of physical and economic access to sufficient, safe and nutritious food, is currently affecting4.9 millionadults plus1.7 millionchildren in the UK, and was exacerbated by the pandemic. This has led to a substantial increase in food bank use.
The report also highlights the threat posed by low-quality cheap cuts of meats imported from countries like the US and Australia as the UK attempts to build new trade links around the world after Brexit.
Also included in the study is new polling conducted by YouGov on the issue of food prices. Of 1,648 people asked,59 per centsaid they thought the price of daily essentials such as food and groceries would increase if the UK left the EU without a deal, including over a third of Conservative and Leave voters (36 per centand35 per cent, respectively).
The cost of groceries and other goods in shops ranked fifth in a list of issues people said were the most important facing them, with nearly a quarter of respondents (22 per cent) citing it as an issue for them and their family.
Best for Britain's Affordable Food Deal report comes in the same month that a report was published by a cross-party group of MPs for the Environment, Farming and Rural Affairs (EFRA) committee.
The EFRA report said that while the UK's food supply chains had held up during the Covid-19 pandemic, leaving the EU without a good deal this year could 'pose potentially greater challenges'.
A Government spokesperson said: "As we have seen in recent months, the UK has a large, diverse and highly resilient food supply chain. Any future trade deal must work for UK farmers, businesses and consumers and thorough contingency planning is in place to ensure a smooth departure from the EU – whatever the outcome of negotiations. We will continue to work closely with the food industry to prepare for a range of scenarios.'