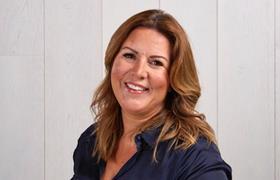 Covid-19 may have brought Pret A Manger's expansion plans to a temporary halt, but the long-term outlook is bright as the chain taps into the trend towards plant-based eating. Eurofruit catches up with the store's UK managing director Clare Clough.

Coronavirus has radically changed the way we live, and hit food chains particularly hard. How has Pret been dealing with the situation?
Clare Clough: When we temporarily closed our shops in March, our priorities were keeping our team members and customers safe, but also making sure any excess food went to those who needed it most. Since then we've donated just over 477,000 Pret items to 138 of our charity partners around the UK and to 40 hospitals.
But we also heard from a number of NHS workers who were struggling to access freshly made food nearby, and also from our charity partners that more needs to be done to support vulnerable people during this epidemic.
After thinking about how Pret could rise to this challengeand, do so safely and in line with government guidance,on 16 April we re-opened the doors to ten of our shops, based near to hospitals.In doing so, this will help give frontline healthcare workers better access to freshly prepared food, while also getting our supply chain up and running again to deliver food to the homeless.
Prior to the pandemic hitting, Pret was in full expansion mode, rolling out the Veggie Pret format and expanding its
overseas network of stores. Tell us about some of the highlights of the past year.
CC: 2019 was a very busy year for Pret, in which we rolled out the single biggest operational change in 30 years – the introduction of full ingredient labelling in all our shop kitchens in the UK. We also acquired the EAT business enabling us to turbocharge the expansion of Veggie Pret.
Even without coronavirus, coffee shops were facing some big challenges, not least the cost of property, labour, and the impact of Brexit…
CC: There's no doubt that some of the headwinds currently facing business are incredibly challenging, but at Pret we are still very focused on growth, especially in the UK market.In London, Veggie Pret provides a great platform for us to appeal to new customers, attracting a younger customer than a traditional Pret.
There's also no doubt that the trend towards plant-based eating is here to stay.Outside of physical store growth we are developing our digital capability which will allow us to explore new channels, starting with launching our new catering and delivery offer.
So can we expect to see many more Pret stores opening up in the UK in the coming year?
CC: We're aiming to have 14 Veggie Pret shops open by summer 2020 [prior to the pandemic] and will continue to open more classic Pret shops. Transport hubs remain a particular focus for us – even small kiosk style units can be very successful in these environments.
What about your international expansion plans?
CC: Our French business, which opened in Paris in 2012, has been particularly successful and we will continue to build on this by expanding further in France. We recently opened a beautiful shop right on the beach in Nice – I can't wait to visit in the summer! Our partnerships business is growing very steadily and I'm certain this will continue to provide new market possibilities.
With Brexit approaching, what strategies has the company adopted to deal with the possible disruption to both supply and labour?
CC: We've been working hard with all of our suppliers to ensure we have robust plans in place. Our daily kitchen production also means we can be flexible with recipes should we ever face temporary shortages on any fresh ingredients.
In terms of our current workforce, we've been supporting all of our team members from the EU since the referendum. The key to this has been clear communication. We developed online content and regular newsletters for our teams, which provided up to date information on settled and pre settled status and how to apply.
I believe the combination of communication and support has contributed to a reduced team member turnover that we've experienced in recent years.
In your previous position as global food director you led the development of the new vegetarian and vegan menus. Tell us about some of the fruit and vegetable trends that we can expect to see in your stores.
CC: Trend-wise, I think we will continue to see clever usage of fruit and vegetables, such as our sashimi-style watermelon, smoked carrot ribbons and 'meaty' roasted mushrooms. Our development chefs are really enjoying seeing what they can create. We are working with both traditional produce items as well as some new varieties and more exotic choices – but I can't give too much away yet!
Sustainability is a key pillar of the Pret philosophy. What is Pret doing to address consumer concerns about single-use plastics and other environmental and ethical issues?
CC: We were an early mover on plastic straws, which have not been in our supply chain since summer 2018 and began introducing wooden knives and forks to our cutlery stations last year.
While we're actively working to use less plastic, there are instances where it is still required. In these instances, we're ensuring that we source recycled content. For instance, our water bottles are already at 51 per cent RPET, while our plastic pots are at 30 per cent recycled content. We're also working on some significant packaging developments set to trial in Veggie Pret later this year. This could transform how we package our food in the future.
We're making progress to substantially reduce our coffee cup waste – we offer a 50p discount for anyone bringing a reusable cup to our shops, and have set up coffee cup recycling points in-shop, We have also rolled out water fountains across our shops.
With regards to food waste, we've been donating our unsold food to the homeless since we opened our first shop and we now donate over 3m menu items a year through our charity, the Pret Foundation.The Foundation also works to support those that have been homeless into work through our Rising Stars programme, and we've recently celebrated reaching 500 Rising Stars to have benefited from that programme.