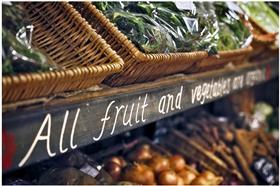 Global organic agricultural farmland increased by two million hectares in 2018, while organic sales reached all-time highs according to new figures.
The new data from The World of Organic Agriculture, published by FiBL and IFOAM, comes from 186 countries, and tracks the growth of organics between 2017-2018.
The market research company, Ecovia Intelligence estimates that the global market for organic food surpassed 100 billion US dollars for the first time in 2018.
The US market led the way at €40.6bn, followed by Germany (€10.9bn) and France (€9.1bn). Many major markets continued to enjoy double digit growth rates too, with the French market increasing by more than 15 per cent.
Danish and Swiss consumers spent the most on organic food at €312 per capita, while Denmark had the highest organic market share with 11.5 per cent of its total food market.
Louise Luttikholt, IFOAM – Organics international executive director, and Professor Urs Niggli, director of FiBL said: "The global organic statistics have proven useful for development programs and supporting strategies for organic agriculture and markets, and they are crucial for monitoring the impact of these activities. This publication shows our ongoing engagement with transparency in the organic sector."
A total of 2.8 million organic producers were reported in 2018, with India containing the highest number of producers at over a million, followed by Uganda (210,000) and Ethiopia (204,000).
In total 71.5 million hectares were organically managed across the world at the end of 2018, representing a growth of 2.9 per cent on the previous year. Australia comfortably boasted the largest organic planted area at 35.7 million hectares, followed by Argentina at 3.4m hectares.
Just 1.5 per cent of global farmland is organic however, although in many countries the share percentage increases, with sixteen countries having 10 per cent or more of their agricultural land as organic.
Liechenstein had the highest share of organic agricultural land at 38.5 per cent, followed by Samoa, (34.5 per cent) and Austria (24.7 per cent).