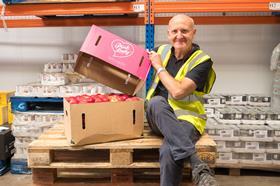 Leading apple brand Pink Lady has provided support to 429 regional charities across the UK as part of its ongoing commitment to FareShare, the UK's largest charity fighting hunger and food waste.

Pink Lady, in partnership with fresh produce licensees Total Worldfresh and Fruitways, has supplied 100,000 apples to FareShare depots across the country over the past three months, who then donated the produce to charitable organisations and community groups across regions including Aberdeenshire, Buckinghamshire, Somerset and Suffolk.

Adèle Fash, Commercial Manager of Produce at FareShare said, "Fresh, tasty fruit is so important for the families our charity supports, especially over the summer during the school holidays when so many struggle without the safety net of free school meals. These apples couldn't have come at a better time and we're enormously grateful to Pink Lady® for their donation – thank you!"

Kyla Flynn, PR and Social Manager for Pink Lady apples said: "We are proud to have been supporting FareShare since July 2020. We feel privileged to be able to collaborate with a charity that is helping to make a vital difference to communities in need right across the UK. As a brand, we firmly believe that everyone should have access to nutritious produce, which is why we are pleased to have been able to support FareShare in recent months, particularly during the summer holidays when children are especially at risk of food poverty. We would also like to thank our licensees Total Worldfresh and Fruitways for all their hard work in making our apple donations to FareShare possible."
Since July 2020, Pink Lady has donated more than 214,000 apples to FareShare, reaching 929 charities. The brand's financial contributions have provided the equivalent of over 82,400 meals in the fight to combat hunger and poverty.

FareShare regularly accepts fresh produce from a variety of organisations. Its belief is that fresh produce is essential for the people it supports and shouldn't go to waste. Fresh produce brands can easily donate surplus stock to the organisation and the team is always happy to work within the operational needs of donors to make the process as simple and sustainable as possible.