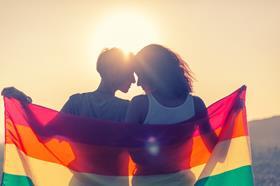 Pink Lady apples has released special LGBT+ Pride packs, supporting anti-abuse service Galop and offering a chance to win a glamping weekend at the new Out & Wild festival.

Over 200,000 limited edition packs of delicious Pink Lady apples will be available only in Co-Op stores across the UK over the next four weeks. All packs will proudly display the Progress Pride flag and include details of an exclusive prize draw.

The packs reaffirm Pink Lady as a long-term ally of the LGBT+ community, engaging in a meaningful and authentic way. Working alongside Pink Lady is licensee and produce supplier, Total WorldFresh, who has been a long-term advocate for inclusivity, diversity, and equality, working with Pink Lady on all previous Pride activations.

The on-pack stickers promote Galop, the charity for LGBT+ victims of domestic abuse, hate crime, sexual violence, and so-called conversion therapy. Pink Lady will also give a donation, making sure their helplines can answer more calls.

Meanwhile, the packs offer a chance to win a VIP glamping weekend at new festival Out & Wild. The wellness festival is designed for women and those that are non-binary, but open to all. It will take place in Pembrokeshire from 10 to 13 June 2022.

Pink Lady UK PR and social manager, Kyla Flynn, said: "We are once again proud to be working with companies and charities within the LGBT+ community. Pink Lady apples are loved by so many across the UK, anything we can do to help raise awareness and support members of the community who are making such a difference means a lot to all the Pink Lady family."

The support from Pink Lady comes at a vital time for Galop and the thousands of people it helps.

During lockdown, domestic abuse escalated, with few suitable places for LGBT+ people to go to escape. Young people living with hostile families, unable to hide who they are in lockdown, saw violent reactions to their identities being discovered.

Leni Morris, CEO of Galop, said: "Brands and businesses have such a huge reach – and we can achieve so much when the power of those voices are used to support LGBT+ rights and communities, who still face such huge barriers and struggles even in the UK today.

"Businesses committing to making real change for the community is the most important part of doing that meaningfully. That's why we're so pleased to be working with Pink Lady on this campaign to protect some of the most vulnerable members of our community.

Meanwhile the pack offers the chance to win a VIP glamping weekend at Out & Wild.

The new festival is aimed women and non-binary people, many of who feel left out of LGBT+ events.

Out & Wild will take place in Lawrenny, Pembrokeshire, Wales for three days and nights from 10 to 13 June 2022. Organisers expect to attract festival goers from across the UK.