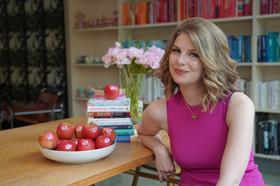 Pink Ladyhas unveiled a new communications campaign exploring reading and music as key interests of its consumers.
Following research which revealed that reading and music are the main hobbies of Pink Lady shoppers, the UK's biggest fresh produce brandhas launched a marketing drive called 'Feel the Wow'.
The campaign sees Pink Lady team up with novelist and journalist Caroline O'Donoghue who has curated 'Pink LadySensational Reads' – a list of eight recommended books which all feature food in different ways.
The brand has created a series of short videos featuring extracts from each book and insights from O'Donoghue about why she selected them. The videos will be promoted through social advertising across the brand's platforms over a three-month period.
Pink Lady is also teaming up with Mirabeau en Provence wine for a series of competitions and gifts for Instagram influencers and fans of the two brands, as well as collaborating with influencers to curate a Feel the Wow playlist, which is now available on Spotify.
The campaign saw influencers being asked to contribute and tell their followers about songs that make them feel amazing.
Kyla Flynn, PR and social manager for Pink Lady, said: "Reading and music both have the power to lift your mood and make you feel amazing, which has brilliant synergy with the way people feel when they eat a Pink Lady apple.
"Our list of Sensational Reads and our Feel the Wow playlist have both been carefully curated to appeal to our fans. Our book club showcases a line-up of diverse female authors and books old and new, and our playlist features a little bit of everything, from 50s rock and roll to reggae and recent chart hits.
"We're confident that this campaign will be well received and will deliver on our intention to surprise and delight Pink Lady fans at every opportunity."