Leading apple brand Pink Lady will celebrate three decades of UK sales with a nationwide on-pack prize draw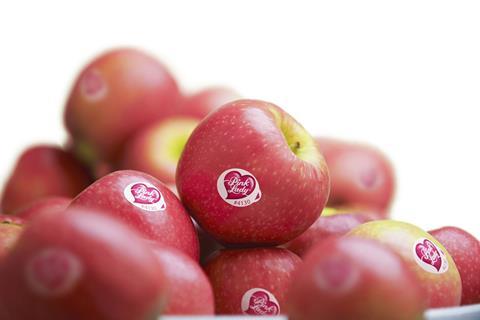 Leading apple brand Pink Lady will celebrate 30 years of UK sales with a raft of on-pack promotions available from a string of major retailers across the country from 15 August to 14 September, giving consumers the chance to instantly win hundreds of prizes over the course of 30 days.
The promotion will run via an on-pack QR code which consumers can scan to win prizes such as plant and makeup subscription boxes, RHS memberships, a pizza oven and branded Pink Lady deck chairs.
Each day they play, entrants will also be automatically entered into a prize draw, closing on 23 October, for the chance to win one of three 'wow weekend breaks' in either the UK or Europe.
The promotion will be advertised on Pink Lady's website, organic social, social media advertising and to the brand's 148,000-strong database of subscribers.
Commenting on the upcoming marketing festivities, Lynn Shaw, marketing manager for Pink Lady, said: "We're incredibly proud of all that the Pink Lady brand has achieved in the past 30 years since first appearing on supermarket shelves in the UK.
"Over the past three decades, the brand has won the hearts of so many consumers, it's the perfect opportunity for us to give something back to Pink Lady fans and invite them to join us in the celebrations, as well as bringing in some new brand advocates via the promotion."
Pink Lady is recognised as a leading light for brands in the fresh produce category since it was first brought to the UK in 1992 by master licensor, Coregeo, and sold to Marks and Spencer, she added.
Today, 30 years on, Pink Lady apples are purchased by more than 28m households each year and the brand has a market share of 22 per cent in the UK, according to Kantar data (52 weeks ending 15 May 2022).
Shaw added: "What gives us an edge over our many competitors is our brand awareness; this has been won by homing in on a key message – 'Taste the Wow' – which we know resonates with consumers and perfectly communicates what we want them to think about our brand. This message has been the focus of our broad-reaching multichannel campaign, spanning digital, advertising, social, PR, trade and sponsorships, enabling us to cement our place in the market."
Pink Lady apples originated in Australia in 1973 as the brainchild of John Cripps, who naturally cross-bred a Golden Delicious and a Lady Williams and gave only the pick of the crop the Pink Lady seal of approval.