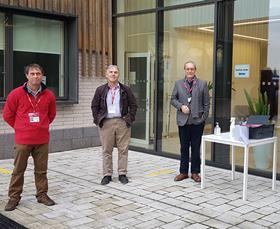 The petitioners who helped trigger a ballot on the future of the AHDB potato levy have said the decision to scrap it reflects discontent with the R&D body that had "been brewing for years".
Lincolnshire potato and vegetable grower John Bratley said: "The results of the ballot vindicate our own polling last year which showed that most growers felt they received no benefit from AHDB and did not want to pay a levy.
"This discontent is not new. It has been brewing for years, but this is the first time that growers have been given a way to express their discontent with the system."
Overall, 66.4 per cent of voters opted to do away with the AHDB Potatoes levy, versus 33.6 per cent who wanted it to be retained.
This is the second such ballot the AHDB has lost in the last two months, having seen61 per cent of horticulture growersvote to remove their sector's compulsory levy.
The horticulture vote showed a more complex picture, with 57 per cent 'yes' votes 'according to the value of levy paid' according to voting analysis.
By contrast, the outcome of the potato ballot was fairly overwhelming. Buyers in all four levy brackets from £0-250 to £5,000-10,000 voted to scrap the levy by a clear majority. And according to the value of levy paid, the overall 'yes' vote was 63.2 per cent.
Flower grower and petitioner Simon Redden, who had been critical of attempts by AHDB to weight the result of the horticulture ballot by the amount of levy paid, welcomed the result. "This result has been so unanimous that Nicolas Saphir hasn't even attempted to put a positive spin on it," he said.
It is now up to Defra to decide what happens to AHDB Potatoes, but as with the horticulture ballot, ministers are not bound by the result.
Following Defra secretary George Eustice's announcement at NFU Live that the government would"respect the outcome" of the horticulture ballot, Redden said growers are "confident that the result of the ballot will be honoured".
However, he expressed anger that Defra minister Victoria Prentis has already said that the 2021/22 levy will be collected.
Meanwhile, NFU chair Ali Capper said the result of the potato ballot is a "clear signalthat the majority of potato growers in England and Wales do not believe their levy is delivering tangible benefits or value for their businesses".
However, she added: "Elements such as research and development and work on plant protection products, currently delivered by AHDB Potatoes, will remain crucial for businesses, so it is important there is clarity on the future as soon as possible. This will ensure businesses are able to prepare how they work on these areas and who with.
"As with the result of the AHDB Horticulture levy ballot, we expect ministers to respect this result and to fully engage with levy payers as part of their decision making."