Added-value range features birchers, granolas and fresh fruit pots that supplier hopes will blaze a trail in healthy fruit-based snacking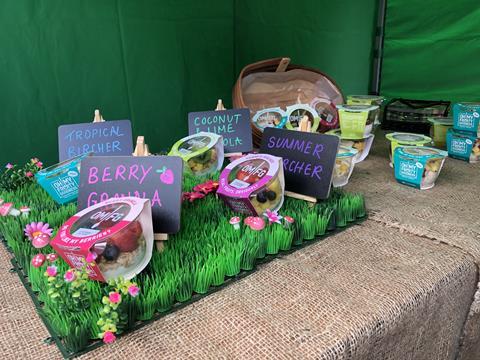 Fresh-cut fruit specialist PrepWorld has launched a new range of birchers and granola pots that it hopes will open up a new category of prepared fruit-based breakfasts, snacks and desserts.
The 'Oh My Fruity Goodness' brand – which soft-launched in September 2021 – features nine products, all of which are free from syrups, jams or added sugar.
There are three birchers, three granolas, and three pure fruit mixes in the range – all of which contain different combinations of PrepWorld's fresh-cut fruit, as well as other ingredients such as gluten-free oats, milk, Greek yoghurt or dairy-free coconut yoghurt.
The brand was showcased for the first time at an event in Northfleet, Kent on 7 July to mark PrepWorld's 10-year anniversary and the unveiling of its new state-of-the-art prepared fruit production facility.
Oh My Fruity Goodness, which PrepWorld has cheekily shortened to OMFG on the pots' lidding film, features a Summer Bircher, a Tropical Bircher, an Autumnal Bircher, a Berry Granola, a Coconut & Lime Granola, a Banana & Honey Granola, a Pomegranate pot, a Mixed Berries pot, and a Kiwi, Mango & Raspberries pot.
As it stands, the products are only available in a handful of small high-end coffee shops in London, and PrepWorld intends to limit production for the next year or so before hopefully scaling up supply.
"We want to focus on really building the brand, then getting into a high-end retailer, gaining a following, and going from there," PrepWorld MD Ben Olins told FPJ.
"We've been low-key until now because we didn't have much capacity for production of the range in our old site in Southfleet [which PrepWorld is starting to move out of]. We also wanted to try something out and see what people thought."
Olins' vision, he said, is for the product to not only sit in retailers' fruit aisles but also in their snacks and desserts sections. "Anywhere that someone's putting a highly processed syrup, jam or sugar into something, why not use fresh fruit?" he said. "That's the dream."
The fresh-cut boss added that during extensive taste-testing PrepWorld had "kept dialling down the sweetness because the fruit itself provides that", giving the products' a nutritional advantage.
The range would be a supermarket first, he said, but conceded that similar products already exist at Pret A Manger where the pots are assembled and prepared in house.
"If you go into Pret A Manger and see those packs, they have them out all day," he remarked. "They'll fly off the shelves at breakfast time but at lunchtime too people want something for dessert. We need to find a name for this kind of product because we've been calling them breakfast pots while pointing out that they're certainly not just for breakfast."
All the products are nut-free and gluten-free, there's one vegan option (the Tropical Bircher, which contains coconut yoghurt and milk), and one dairy-free option (the Coconut & Lime Granola, which contains dairy-free coconut yogurt).