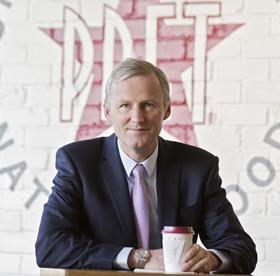 Pret A Manger is looking into opening a new store dedicated to vegetarian food, or whether all of its stores should have a vegetarian-only fridge.
The premium sandwich chain is exploring ways it can capitalise on changing consumer and culinary trends, and increasing exposure for and awareness of animal welfare and global warming arguments.
The move follows reports that Burger King is looking to introduce more vegetarian options to its UK menus.
Clive Schlee, Pret CEO, said: 'I regularly look at Pret's sales mix to see which food categories are growing and which are shrinking. Recently, there has been a distinct shift towards vegetarian.
'The top-selling SuperBowl in our latest salad launch was beets, squash and feta, beating chicken, salmon and crayfish alternatives. This would have been unheard of five years ago.
'[But] how can Pret help people to enjoy more vegetarian food without being preachy, or worse still, alienating our customers? After all, our best-selling sandwich at the moment is the chicken caesar and bacon baguette, and some of the fastest-growing chains in the world like Five Guys and Chipotle are distinctly animal protein-oriented.
'One idea is to open a vegetarian Pret A Manger shop. It would offer the usual Pret menu but replace sandwiches and salads containing meat and fish with a delicious range of vegetarian items. These dishes would have to be good because in the food business, it is always taste that wins the day. Put simply, vegetarian food has to be delicious if it is to gain more traction.
'The danger of doing this is that we take choice away and upset loyal customers and, of course, we love our current range. The reason to do it is to act as a beacon for more innovation at Pret for the future, which offers greater choice. It would encourage Pret to create tastier vegetarian food and tempt customers who are inclined to try new alternatives.'
The idea is still in its infancy, and Schlee noted that there are some within Pret who believe the business should be more cautious and simply put in a dedicated fridge full of vegetarian food - another suggestion he has put to the chain's customers in an online pull.