Essex grower Foxes Farm says its yield is down by a quarter to a third this year and expects to see "some kind of shortage"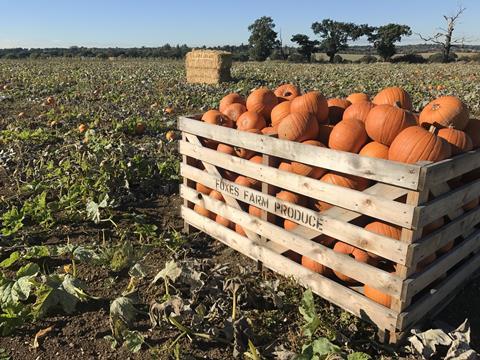 The UK could be short of pumpkins this Halloween as a result of this year's drought, according to a major producer in Essex.
The Telegraph reported that despite good product quality, some growers' yield is down by as much as a third due to difficult growing conditions.
Guy French, who runs Foxes Farm Produce in Essex with his wife Emily, told the newspaper: "The quality of the pumpkin is good – the skin finish is good, they're a really good orange – but the drought has had a knock-on impact on yield. You just haven't got the volume there."
He said he expected "some sort of shortage". Indeed, Foxes Farm has already sold out of the pumpkins it supplies to event planners running pumpkin patches or Halloween events.
Foxes Farm has been picking since 15 August and said its yield this year was down by between a quarter and a third.
Each year, pumpkin growers tend to tailor their acreage to what they think demand will be due to the Halloween sales rush and the time-limited nature of the product.
This means shortages are likely if growing conditions are challenging and yield suffers.