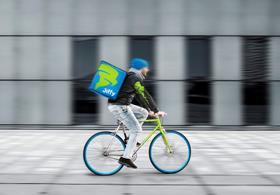 The UK's newly emerging rapid-delivery grocery sector could be set to grow in value from £1.4 billion to £3.3bn a year, according to a new report from IGD.
The sales channel– which covers food and grocery deliveries to consumers in less than one hour, and often under 30 minutes – has expanded rapidly in recent months due to Covid-19 lockdowns, with more people shopping from and eating at home.
IGD explained that its annual market estimate of £1.4bn is based on the claimed spend of the 13 per cent of UK shoppers already using quick commerce. The grocery research charity identified there is a further 22 per cent of total UK shoppers interested in the sector, who are still to play for.
Therefore, IGD estimates the size of the opportunity for quick commerce in the UK is £3.3bn, based on average claimed spend of shoppers already using the service plus those interested.
IGD's report, entitledQuick Commerce: get up to speed,reveals that one in three shoppers in the UK have used or are interested in using so-called 'quick commerce'.
The most common drivers for purchase are getting food to go, top-up shopping and preparing or ordering a 'meal for tonight'. The average age of the quick commerce shopper is 36 and its main shopper group is young adults living in urban locations.
More than seven out of ten shoppers who use or are interested in trying quick commerce said they can be inspired to use it to pick-up last-minute items for key events such as summer barbecues, key sporting events, parties and public holidays.
Simon Mayhew, head of online retail insight at IGD, said: "Rapid delivery, or 'quick commerce' as it is now known, has been around for some time, but Covid-19 has clearly catapulted its expansion to the point where it's become a channel in its own right.
"Its growth is evident in the UK, but also on a worldwide scale, with players like Fancy, Getir, Weezy, Gorillas and Jiffy fast becoming household names."
To help retailers and suppliers understand this new retail landscape and its operating models, the IGD report identifies three sub-sectors within the channel:
1. Aggregators: third-party websites offering on-demand fulfilment. There are three types, which include takeaway aggregators (e.g. Deliveroo), grocery-focused aggregators (Instacart) and service aggregators (Glovo), which offer a range of other services in addition to grocery.
2. Pure plays: these emerging operators are building their proposition around a high-speed delivery service, often with delivery in under 15 minutes. They run their own fulfilment centres, or dark stores, in urban high population areas for quick delivery. Players include Jiffy, Dija, Getir, Gorillas, and Fridge No More.
3. Retailers: as well as partnering with third-party players for delivery services, established retailers have also launched their own on-demand services. These include Sainsbury's Chop Chop and Ocado Zoom. Fulfilment is varied, with some retailers using in-store pick and some retailers using automation.
Rachel Sibson, retail analyst at IGD and author ofQuick Commerce: get up to speed, explained: "Quick commerce is an exciting, fast-paced channel which presents a huge opportunity for suppliers, retailers, aggregators and pure plays.
"The new report maps out development and growth on a global scale and also looks closely at the UK, using our ShopperVista data. The second and third editions of the report series will focus on retailer best practice, how to gain share and the future outlook."