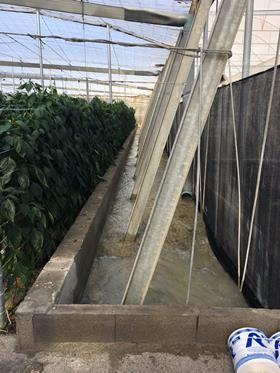 Spanish salad crops are in short supply after heavy rain halted picking in some areas and cooler temperatures have slowed crop growth.
Aubergine is particularly tight, with peppers, tomatoes and cucumbers also affected, according to Reynolds senior buyer, Matt Jones.
"They had three days of solid rain in some regions, with more forecasted for this weekend. We were driving round last week and there was a lot of wash away, and they couldn't pick for a couple of days," he said, adding that several growers have had issues with packhouse flooding.
But Spanish growers have played down impact on overall yields. Director of pepper supplier Ejidomar, Rafael Roldán, said: 'The rainfall hasn't affected production in this area (El Ejido), save for minimal damage to some greenhouses and warehouses. If the rain had continued with the same intensity then it would have been a different story however.
"There won't be any supply shortage but what we are seeing is a slowdown in production as winter has arrived and the temperature has dropped," he added.
Javier Díaz, commercial director at El Ejido-based SAT Agroiris, said rainfall has been localised. 'The effects of the rainfall will be minimal. There may have been some incidences of small localised damage to greenhouses but not enough to disrupt production," he said.
Elsewhere, cauliflower supply is still difficult due to growing conditions in the UK and Spain, Jones said, with French suppliers capitalising on the shortage with higher prices.