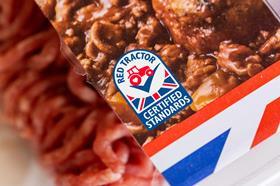 In a strategic move to promote British food ahead of Christmas, Red Tractor has launched a dedicated campaign to inform and persuade shoppers of the benefits of supporting its traceable, safe and 'farmed with care' principles.
The new advertising campaign is targeted at the principal shopper in every household and is heavily weighted towards digital, social channels and print media to reach time-poor, price-oriented consumers. There is a particular focus on broadcasting adverts during TV on demand.
It isexpected to reach around two million unique viewers as they catch up on the nation's favourite shows, including The Great British Bake Off, Grand Designs and Our Yorkshire Farm.
Findings from Red Tractor's recentTrust in Food Indexsuggest that theUK public overwhelmingly backs British food as safe, traceable and good quality. One of the main reasons behind this confidence is an implicit trust in the systems of regulation and assurance that exist in Britain.
Today, more than £14bn worth of home-produced food and drink sold in the UK bears the Red Tractor certified logo, having met rigorous standards throughout the supply chain, from farm to pack.
Research from YouGov found thataround three-quarters of shoppers who are awareof Red Tractor say it as an independent source they can trust, withfour out of five saying they actively look or the logo when buying food.
Meanwhile, four out of five consumers who typically buy the food for their household said that they nowrecognise the Red Tractor logo, surpassing all previous records for the brand.
A Red Tractor TV advert, which ran between March and May this year, waswatched by 21.3 million UK adults on live TV, had 3.3 million views on streaming services, and racked up 38.9 million views on YouTube.
Jim Moseley, Red Tractor's chief executive, said: "At this time of unique change and pressure on British farming, and the unprecedented scrutiny and uncertainty over the food we eat, we know that the priority for consumers is having high quality, safe and affordable food that is farmed with care. The Red Tractor logo means that the food they buy has been responsibly sourced, safely produced and comes from British crops and animals that have been well cared for."