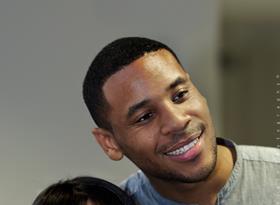 Fresh-cut fruit specialist Blue Skies has announced broadcaster Reggie Yates as its new business partner and creative director.
The ethical fruit supplier produces and processes its dairy-free coconut milk ice cream in Ghana. And the company felt like a good fit for the award-winning Britishwriter, director, documentary maker and broadcaster, who was born to Ghanaian parents.
Yates said he wasinspired to find a brand that shared his Ghanaian roots and felt compelled to join Blue Skies when he learned of its emphasis on putting people first.
Blue Skies ice cream – currently listed in Waitrose, Amazon Fresh and Booker – is built on a sustainable business model. The business creates its coconut ice cream at source in Ghana, ensuring a fair price for farmers as well as investing and partnering with local communities.
Making the ice cream in Ghana means as much as 75 per cent of the value of the finished product stays where the fruit is grown, compared to as little as 15 per cent if it is produced elsewhere.
To date, the company has also supported more than 120 social enterprise programs throughout Ghana and across the world as part of its Blue Skies Foundation.
Yates said:"This just made sense. Investing in people is one of my deepest passions and joining Blue Skies as a business partner means that together we can make an even greater impact for communities across Ghana.
"My Ghanaian roots have always played a huge part in my life. Blue Skies ice cream is a company that is enabling communities to take control of their future, while creating an amazing product. Being a part of it means I'm not just telling the story but helping create and shape it."
The partnership will launch this summer with the brand'sAbove and Beyondcampaign, which will support Yates' Pass the Mic initiative – a platform built through his creatively driven content and cause company, FIVE7, which empowers and elevates voices from diverse backgrounds. It includes a £1,000 prize to help young British creatives.
Entrants will be encouraged to send in their 'above and beyond' story, showcasing how they, or someone they know, has made a difference to inspire other people over the last year.
Alongside this, the campaign will see the brand release two unique films across the summer made by Yates in Ghana.
The films, produced by FIVE7, will tell the story of how Blue Skies uses fresh coconuts to make its dairy-free ice cream and explore the people behind the pots and how the company invests in growers and communities.
Hugh Pile, CEO of BlueSkies, said:"We wanted to create a campaign that inspires UK consumers to try Blue Skies ice cream by showing how we go above and beyond to create fairer, dairy-free ice cream made with fresh coconut milk.
"Reggie embodies our values of passion, integrity and boldness to capture the individual personalities of the people who feature in his documentaries. We look forward to working in unison to tell the story of Blue Skies."
Blue Skies will support the listing of its new Caffè Latte flavour, as well as its award-winning Mango Passion Fruit and Simply Coconut varieties, with in-store promotions at Waitrose and paid online advertising.