UK producers feel optimistic after recent sunny period brings renewed hope for blackcurrant crop hit by adverse weather and high costs
Blackcurrant growers across the UK are optimistic about the potential of this year's crop, despite enduring weather challenges and escalating production costs, according to The Blackcurrant Foundation.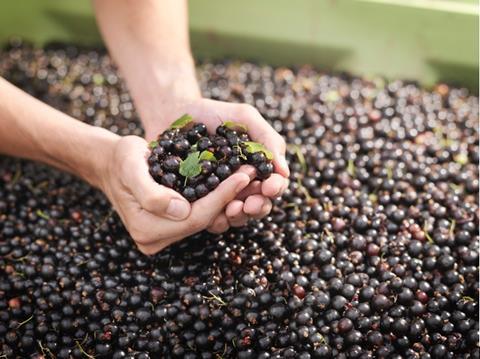 Average winter chill, a dry February, and a cold, wet spring made for a challenging growing season, the group said. However, the recent sunny period, perfect for the second half of flowering, has brought renewed hope.
Growers across the UK expect to produce around 11,000 tonnes of blackcurrants this season, maintaining an average yield of three tonnes per acre. This target marks a recovery from the impact of last year's extremely hot weather that caused some crops to fail.
Jo Hilditch, a spokesperson for The Blackcurrant Foundation, which represents UK growers, said: "The increasing cost of farming inputs, including labour and materials, has led growers to be cautious about planting new blackcurrant plantations this year. Instead, many growers have opted to extend the lifespan of their existing crops, striving to achieve the highest quality yield possible."
The UK blackcurrant sector comprises 35 specialist growers who maintain approximately 4,500 acres of planted crops.
Along with the Wildlife Trust, these growers are committed to sustainable farming practices, including conservation efforts such as the 6 Point Plan implemented in partnership with Ribena, the foundation said. The plan outlines responsible management of hedgerows, field margins, soil, water, and habitats for farmland birds, among other things.
Around 90 per cent of the UK's blackcurrant crop is used in the production of Ribena, a perennial favourite British drink. The remaining 10 per cent find their way into other markets, including Individually Quick Frozen (IQF) fruit for supermarkets, puree production, jam making, fresh juice production, and more.
The start of the UK season will be celebrated on Blackcurrant Day on the 15 July 2023, which aims to share the many benefits of the great British blackcurrant, The Blackcurrant Foundation said.