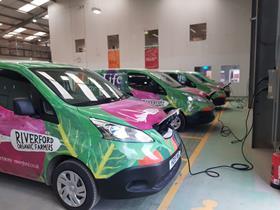 Organic veg box company Riverford has set out its commitment to reduce carbon emissions by investing in electric vehicles, solar energy and reducing plastic packaging as part of its first sustainability report.
Released this week to tie in with the company's second anniversary of becoming employee owned, the report includes the company's first carbon footprint analysis, carried out by the University of Exeter, as well as targets aligned with the UN Sustainable Development Goals, environmental and social sustainability, and supply chain impacts.
"The question of 'What's good to eat?' isn't a simple one. As an ethical food business, Riverford and our customers are concerned about wide-ranging, complex issues of social and environmental sustainability," said report author and Riverford sustainability manager, Zac Goodall.
"We want to do better than vague claims and greenwash, so we've carried out research – including a carbon footprint study with the University of Exeter and a plastic packaging study with independent researchers Savanta – and put together the first Riverford Sustainability Report."
The carbon footprint analysed emissions from across the business, excluding agricultural activity, during 2017-18. It found that transportation (72 per cent), packaging and materials (14 per cent) and electricity usage (11 per cent) were the highest carbon emission outputs, with a total of 11,162 tonnes of CO2 equivalent emitted a year.
The report sets out a target of 10 per cent absolute reduction from this baseline annual footprint by 2023.
On transport, the delivery of veg boxes to customer doors was found to be the most energy-consuming, something that is already mitigated by having only one delivery day per area. To further reduce emissions, Riverford has announced it will convert three quarters of its van fleet to electric vehicles by 2023, with the first vehicles currently on trial in Hampshire.
In 2019, the Devon-based company invested £300,000 in over 1,400 solar panels in the largest subsidy-free solar installation in the South West, that will generate 25 per cent of the site's energy use. Riverford is already 100 per cent supplied by renewable energy provider Ecotricity.
To further cut carbon emissions associated with electricity usage, the company is investigating more efficient refrigeration systems and working towards 100 per cent LED lighting.
Packaging is another key area of focus. As part of the company's pledge to remove all plastic from its fruit and veg by the end of 2020, a new zero packaging box was launched at the beginning of the year, alongside investment in home compostable alternative materials.
The company already uses 82 per cent less plastic than equivalent organic items sold at major supermarkets, a statistic that is independently verified on an annual basis by research company Savanta.
Riverford founder Guy Singh-Watson said: "Riverford already enjoys an extraordinary level of trust and support from our customers; trust that we will do the right thing by staff (now co-owners), the environment, future generations and our customers.
"That trust has been built over many years of patiently researching the issues rather than responding to newspaper headlines. There is a deep and genuine desire within the business to be part of the solution rather than the problem which makes it easier to invest in reducing our environmental impact even when the commercial return are not obvious."
Managing director Rob Haward said: "Protection of the environment has been important to us since Guy first put a fork in the ground 32 years ago. We farm organically. We don't air freight. We never buy from heated glasshouses. We are electrifying our van fleet. We encourage and support more plant-based eating. We are investing in solar energy.
"Given the magnitude of the threat we face from climate change, I believe it is right for us to look more deeply at where Riverford might be able to go further."
The first Riverford Sustainability Report uses data from the financial years 2017-18 and 2018-19 as a starting point for future reports. From 2020 onwards, a new report will be released after each financial year, tracking progress against last year's goals and setting targets for the year to come.