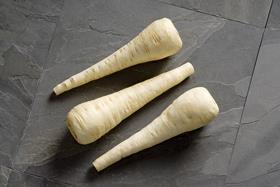 With over a third of all roasts consumed in winter, root vegetables are firmly back on the menu – the colder the weather, the more room they take up on the plate.
Retailers have an opportunity to cash in on produce like parsnips, which feature in 14 per cent of all roast dinners eaten in winter – a big increase from their presence in six per cent of summer roasts. But the benefits of root vegetables go beyond this seasonal trend. They consistently tick boxes for consumers when it comes to health and price, as well as forming a key part of waste-cutting concerns.
Shoppers are still bearing the brunt of 2018's poor potato crop, with prices up seven per cent per kilo from the same period last year. But despite recent price hikes the trusty root vegetable, buoyed by discounted ranges, still represents good value for money and should weather these price fluctuations.
Shoppers are managing their spend through the economy range, which currently accounts for 13.9 per cent of onion sales and almost a quarter of all carrot sales, and the nature of root crops as a staple food prevents retailers seeing a decline in sales in value terms.
Crucial to this is the fact that root vegetables are more likely to be chosen for their health benefits. Consumers cite health as the motivation for purchase 31 per cent of the time, compared with 24 per cent for the average vegetable.
The popularity of wonky veg also shows no signs of waning and is a fantastic example of how root vegetables tackle multiple needs simultaneously – consumers want to be healthy, spendthrift and sustainable. What's more, interest in categories like wonky carrots is growing fast: almost 10 per cent of the population bought them this year compared to 8.3 per cent the year before, and 44 per cent of these shoppers made it a repeat purchase.
Root vegetables are the steady and reliable superstars of winter, because not every produce category carries their trifecta of benefits.
By carefully balancing the marketing between the category's health, price and sustainability credentials, retailers could find themselves generously rewarded – as could consumers.