Vegetable supplier reaches milestone with food redistribution charity following consistent four-year partnership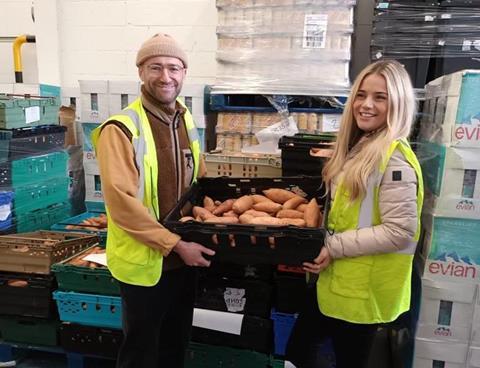 Vegetable supplier Rush Group has now diverted four million meals' worth of produce to vulnerable people through its partnership with FareShare.
Since 2019, the company has sent the organisation a regular supply of surplus or off-specification vegetables, including potatoes, butternut squash and sweet potatoes.
Rush Group is a grower, packer and processor of sweet potatoes, butternut squash, potatoes and other root vegetables, with facilities in the UK, the Netherlands, Portugal, Poland and Hungary.
By working with FareShare, Rush Group has ensured its surplus produce gets diverted away from waste and onto the charities and groups that FareShare supports, thereby helping people who face food insecurity.
"For every tonne of food that FareShare UK redistributed, we prevented the waste of 2,696 tonnes of embedded CO2e," said Rush Group director Guy Burgoyne. "It's heart-warming to know our produce is having a meaningful impact on the lives of many. We are proud to play our part.
"Fareshare's Surplus for Purpose fund and their supportive team have been instrumental in making this possible. The partnership has inspired us to go a step further in finding innovative ways to minimise food waste and put surplus vegetables to work across the entirety of our supply chain."
The Sussex Beacon, a charity providing care and support for people living with HIV, regularly receives potatoes and fresh vegetables from FareShare. This food has helped head chef Robin Parfitt and his team make sure their clients eat meals that are varied and delicious, as well as healthy.
"Homecooked classic English foods are always really popular – shepherd's pie, cottage pie, mash – but we also try to provide some variety and healthier options," said Parfitt.
"A lot of what we do is just try to help people get interested in eating again," he continued. "People we work with may not have eaten properly for weeks for many reasons, so the variety and quality of the food is really important."
CEO of FareShare, Lindsay Boswell, added: "A big thank you to Rush Group and their farmers for working with FareShare to provide four million meals. Since 2019 you have provided the charities and community groups we support with regular deliveries of much-needed nutritious surplus vegetables.
"We're proud to partner with a company so committed to minimising waste within their supply chain, and excited about what the future holds."
Rush Group has been recognised as one of FareShare's 2022 Leading Food Partners, which recognises food businesses that consistently divert surplus to FareShare from across their operations.
The Leading Food Partner logo celebrates companies that, through their work with FareShare, are demonstrating a commitment to tackling needless food waste and saving charities across the UK money on their food bills.