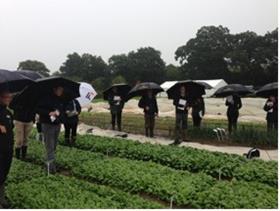 Climate change is the key challenge facing the UK salad growers industry.

That's according to research by salad brand Florette. It was conducted to better understand the important issues affecting the sector in the face of competition from substitute crops and a loss of expertise amongst future generations.
The research explored financial and economic concerns, future investment plans, business succession planning, climate change challenges and key issues that salad growers believe will impact the industry over the next two decades.
The research found that the top challenge facing UK salad growers is climate change and its subsequent impact on growing conditions and sales, yet confidence around financial strength and future investment plans is strong.

As an industry highly dependent on the vagaries of the weather, UK salad growers are used to the weather volatility; yet 78 per cent of salad growers stated that changeable weather patterns and rainfall levels (58 per cent) are the two biggest areas in which climate change has impacted upon their business.
The research also revealed that climate change is making it harder to predict sales, with half of those surveyed stating that their business has seen unpredictable sales as a result of climate change, and 1 in 10 believing it is also causing an increase in abnormal pests and diseases.
As a result, many businesses are looking to invest in increased irrigation, crop covers and new technologies to better adapt their business and future proof salad supply.

Yet amidst the challenge of climate change, the outlook of UK salad growers remains positive with the vast majority of businesses (68 per cent) stating the financial strength of their business is strong and 89 per cent expecting to see an increase in turnover over the next five years, with many looking to grow their businesses further through new product development (68 per cent) and increased protected cropping areas (68 per cent).

Neil Sanderson, managing director at Florette, said: "After the unseasonable irregularity of the British weather in the last five years, it's not surprising that climate change is high on the salad growers' agenda. But what is positive is the confidence in the sector and the amount of future proofing plans that the research revealed.
'It is clear that the UK salad growers industry is aware of the challenges and looking to act on them to keep supply going. The results also highlight that most are weathering the current economic difficulties and that investment plans are in place to ensure their businesses continue to thrive.'