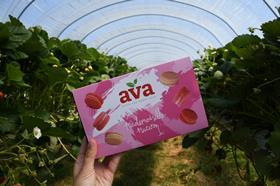 Scottish brand AVA Berries has reported a 20 per cent increase in sales for the year.
The berry specialist said it has sold over 3.6 million punnets of its premium branded strawberries during this year's season, up almost 700,000 punnets on last year.
Supplier Angus Soft Fruits praised its growers, retailers and customers who it said 'continue to produce, sell and consume the award-winning berries by the tonne despite another difficult year under the restrictions of Covid-19.'
Media and marketing
The brand focused on delivering a programme of media and marketing campaigns to raise awareness among consumers during 2021.
That included a partnership with McQueen Dairies that saw AVA do doorstep drops of strawberries with milk during lockdown, a link-up with Edinburgh baker Mademoiselle Macaron to create a luxury strawberry macaron, and a host of partnerships with Scotland's top food bloggers, who crafted dishes with the berries to inspire fans.
AVA have been bred through the Angus Soft Fruits Breeding Program and are grown by a select group of growers on the north-east coast of Scotland with flavour, yield and sustainability in mind.
They are sold in the premium lines of Aldi, Marks & Spencer, Co-op, Morrisons and Sainsbury's nationwide.
Jill Witheyman, head of marketing at AVA Berries, said: "We always anticipated these last couple of years would be tougher with people under restrictions and potentially less inclined to explore the supermarket shelves, however we have been pleasantly surprised to see the love for our strawberries continue to grow.
'We really do believe AVA Berries are the best on the market and clearly, British consumers agree. Next year will see us expand on our marketing campaigns across the UK with some exciting announcements on the horizon, hoping to encourage more people to enjoy the perfect taste of an AVA strawberry."