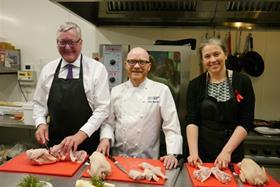 Scotland has appointed the winner of last year's Masterchef: The Professionals as its first-ever national chef.
Gary Maclean's remit is to help change the relationship Scots have with locally-sourced food, and will push forward plans to make Scotland a 'Good Food Nation'.
Maclean, who is also a senior chef lecturer at the City of Glasgow College, said: "I'm sure my passion for education will also help to promote the benefits that Scottish produce can have on a healthy diet and will help to change our relationship with locally sourced and produced food."
Cabinet secretary for the rural economy Fergus Ewing said: "The appointment of Gary Maclean as our national chef will play a central role in celebrating the rich larder of produce that we have available and advocate the use of locally sourced, healthy, sustainable and affordable food.
"Scotland's food and drink sector is a global success story and one of the main contributors to our economy. We want to build upon this success by becoming a world leading Good Food Nation where nutritious, fresh and environmentally sustainable food is a key part of what makes people proud of their country and Gary will play a leading role in delivering this ambition."
Minister for public health Aileen Campbell said: "The national chef will play an important role in delivering our healthy nation ambitions. As well as demonstrating how the selection, cooking and enjoyment of nutritious food contributes to a balanced and sustainable diet, Gary will also promote the benefits of healthy food for our physical, mental and social wellbeing."