The Scottish food supplier marks start of local strawberry season by teaming up with Perthshire chef to make Jubilee tribute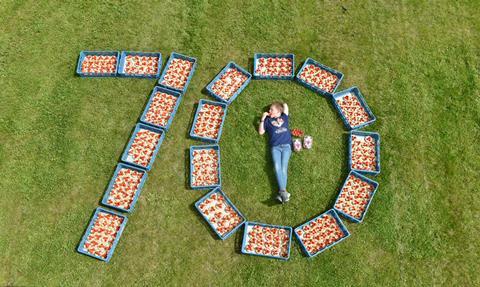 Scottish food supplier Scotty Brand has celebrated the start of the strawberry season and the Queen's Platinum Jubilee by teaming up with a local chef and fruit grower to create a very special tasty tribute.
With their first-of-the-season strawberries hitting the shelves of Asda stores across the UK from next week (Monday 6 June), Scotty Brand teamed up with Perthshire chef and restaurateur Tim Dover to make 400 mouth-watering strawberry tarts which were assembled into a giant 70 in honour of the 70-year anniversary of the Queen's reign.
The giant 70 was created in a field at Bruce Farms near Meigle in Perthshire, a family run farm which provides all the sweet and juicy strawberries and raspberries for Scotty Brand. The individual pastries were then donated to three care homes in Meigle, Coupar Angus and Blairgowrie as a contribution to the Jubilee celebrations being held for residents and staff.
Michael Jarvis, head of marketing at Scotty Brand, said: "Strawberries are always an exciting addition to our portfolio during the summer months and they're the perfect ingredient for a magical Jubilee celebration. Scotty Brand is proud to mark the 70th anniversary of the Queen's reign and to be helping local care homes celebrate the Platinum Jubilee in style through our collaboration with local chef Tim Dover, who's created 400 of the most delicious-looking tarts with our berries, which are grown by the team at Bruce Farms.
"Scottish berries are hugely popular both north and south of the border and we know they'll be enjoyed by families the length and breadth of the country this summer. This year Scotty Brand is producing around 300 tonnes of strawberries for sale all over the UK – that's more than the weight of a Boeing 747, or about 25 double-decker buses!"
Chef Tim Dover, who runs The Roost restaurant in Bridge of Earn with his wife, Anna, said: "It's a real honour to work with Scotty Brand and Bruce Farms to create this magnificent strawberry tart creation to celebrate the start of the season and the Queen's Jubilee. These really are some of the sweetest and most delicious strawberries I've ever tasted and it's lovely to think how many elderly residents in the local community were able to enjoy them."
Geoff Bruce, who heads up Bruce Farms, said: "Scottish strawberries are famous, with Perthshire being at the heart of Scotland for growing the crop. The light, fertile soil, long summer days and mild nights provide the perfect conditions for growing sweet, juicy berries. It is the ideal location and growing conditions that produces - and guarantees - such a delicious and fruitful crop. Scotland's temperate climate means that the fruit ripens more slowly than many others and is therefore sweeter and juicier."
Scottish berries come into their prime for the summer and for seasonal events such as Wimbledon. An on-site packing hall means the fruit is picked, packed and despatched rapidly, so the strawberries reach stores within 24 hours. Scotty Brand strawberries come in 300g punnets and will be available in selected Asda stores throughout the UK from Monday 6 June. Scotty Brand raspberries and cherries will follow in the coming weeks.