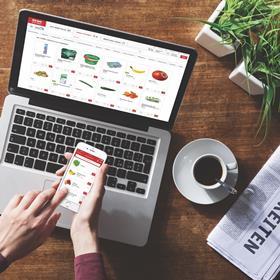 The Covid-19-induced shift to eCommerce may well be here to stay, according to business leaders in the UK.
In a survey conducted by supply chain and logistics consultancy Scala, more than a third of grocery and homeware businesses in the UK saw the shift to online shopping as a permanent one.
36 per cent of companies believed that eCommerce would remain at the inflated levels experienced during the pandemic, with 67 per cent of grocery businesses predicting further growth in the coming months.
According to Scala, continued growth in eCommerce was likely to affect businesses' carbon footprints, such as due to rising transport or warehousing requirements, and would have to be a key strategic consideration for the future.
34 per cent of companies have reportedly seen an upsurge in warehouse usage since the start of the pandemic, while half have seen a rise in packaging costs.
However, the research revealed that 64 per cent of businesses had no plans in place to reduce the impact of their eCommerce operations, while 32 per cent of those surveyed had no measures in place to monitor the total impact of their supply chain operations.
John Perry, Scala's managing director, commented: "The events of the past two years have changed our shopping habits, and subsequently the demands placed upon our supply chains, irrevocably. Given this, the number of companies that currently have no plans or long-term strategies in place to address this step-change is both surprising and concerning.
"This lack of strategic foresight can, in many ways, be traced back to the lack of processes and frameworks in place to measure businesses' increased carbon footprint, meaning that many may have no idea as to the scale of their current emissions profile. Put simply, without measurement, you can't manage, and we would urge businesses that do not currently measure the full scope of their carbon footprint to take steps to address this shortfall as a matter of urgency."