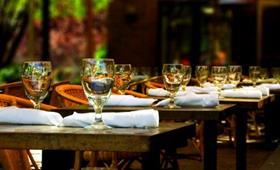 Weather-related food shortages could "wipe out" the net profit of large restaurant chains with fixed menus, a New Covent Garden wholesaler has warned.
Amid crop shortages and soaring farm gate prices in a range of foods, Vernon Mascarenhas of Nature's Choice said restaurant prices were likely to rise by around 15 per cent by the end of September. This year's nightmare growing conditions will have a "massive impact" on large restaurant chains that can't easily change the dishes or prices on their menu, he predicted.
The former restaurateur claimed it can take a large chain with a fixed offer around a month to print and distribute a new menu due to the scale of the task and the bureaucracy involved.
Independent restaurants, on the other hand, have more flexibility to adapt their menu as and when they feel it is necessary, allowing them to quickly adjust their prices or dishes without having to absorb any losses.
British potatoes, carrots and onions are already in short supply, necessitating imports from Eastern Europe, and brassica shortages are set to follow in a few months time. But with adverse weather also affecting meat, dairy and wheat production, vegetable shortages will not be the only factor driving up restaurant prices.
One vegetable that will be particularly badly affected is Brussels sprouts, with Mascarenhas predicting that major shortages will force many restaurants to drop the festive favourite from their Christmas menus and opt for another brassica instead.
"The poor restaurants that have already printed their Christmas menu and got it out there will probably go for frozen sprouts now," he added.
Since most restaurants operate on extremely tight margins, Mascarenhas said they would have no choice but to pass on food price rises to their customers, however he doesn't believe the anticipated increases will have much impact on diner numbers.
"I think dining out in the UK is relatively cheap so a 15 per cent price rise won't be enough to put many people off," he explained. "Generally we've got good, competitive pricing in our restaurant sector."
"This is not just a flash in the pan," Mascarenhas added. "This is going to affect us right through until the next harvest in the spring, and the problem for growers is that they have no idea what's going to happen next year.
"This could absolutely happen again and if anyone says this has nothing to do with climate change, they're talking nonsense."
Going forward, the wholesaler said Nature's Choice was having a serious debate with its growers about the crops they plant. "We now need to look at switching to crops that are more robust, less affected by frosts and less reliant on water," he said. "This discussion needs to involve seed producers as well, of course – It's about finding suitable varieties."
The wholesaler suggested the UK may need to learn lessons from Scandinavia, where weather conditions vary more widely between winter and summer. This could see the UK switch to growing more root vegetables as opposed to vegetables that grow above ground, such as brassicas.